What is ESA?
In its simplest terms, ESA is a new industry standard developed for real-time monitoring and control of PC power supplies, chassis, and cooling systems. The goal, of course, is to enable manufacturers and enthusiasts to build higher performance PCs than has been possible before. However, ESA is not just about the highest benchmark score. This new component control will enable companies and/or users to build the quietest PC possible, or to set up ever more complicated control paradigms that allow the computer to function at its best regardless of the operating environment.
Of course, NVIDIA is not completely altruistic and they obviously want to sell more chipsets, video cards, and future components because of ESA. However, NVIDIA was very wise to make ESA an
open
standard. This means it is free to use for anyone who wants to implement the standard. This does not mean that AMD or Intel will jump on the ESA bandwagon tomorrow, but it does mean that any manufacturer who wishes can implement ESA. If ESA is a huge success, we could eventually see even competitors to NVIDIA support it.
That still doesn't explain exactly what ESA is or how it works, so let's delve a little deeper and look at where we are today and what ESA brings to the table.

Click to enlarge
Today components communicate with the motherboard and software via standards like SMBus, EPP, PCIe, Serial ATA, and HyperTransport. The communication, however, normally has little to do with system monitoring and variable control. ESA is a separate communication standard that will work in conjunction with these protocols to provide the monitoring and control information to other components and/or software.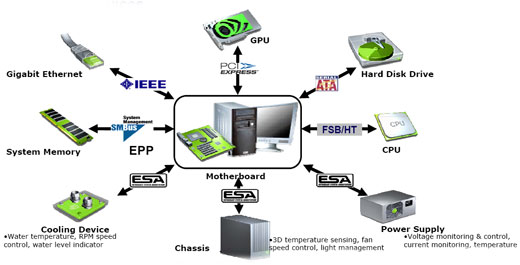 Click to enlarge
This can include information for a power supply like voltage monitoring and control, temperature control, and current monitoring. A chassis could report and control temperatures in the case and manage interior lights. Coolers could monitor temperatures - including water temperature and water levels for liquid cooling - fan RPMs, and airflow. This is just the tip of the iceberg since ESA can manage and control anything the manufacturer chooses to implement.
Control is not limited to just these components. ESA is starting here but if it can go anywhere enthusiasts and component manufacturers want it to go. With an open standard, there could be many custom modules in Linux, for example, written by computer enthusiasts to provide a wide range of adjustments for ESA components. Yes, ESA is initially a Windows application - provided by NVIDIA - but as you will see on the next page, the actual protocol is OS independent. This is very important for the future of ESA, as it will eventually allow ESA to operate with any platform.