Specifications
Ultra ULT40010 Hard Drive Cooler
Heatpipe Material
Sintered Powder Heatpipe
Heatsink Material
Aluminum
Grounding
Wire Grounding
Dimensions
143 x 122 x 42mm
Weight
402g
.
The ULT40010 is a passive 3.5" hard drive cooler. The unit is an attractive blue aluminum, bristling with cooling fins along the top of the cooler itself. Heat pipes run along the front and rear of the unit, providing an additional boost in thermal transfer capability. Four rubber spacers screw into the unit and act as mounting points for the chassis screws. Ultra has chosen to include a grounding wire with the ULT40010, which is a sensible precaution given that the aforementioned spacers are the primary contact point with the case.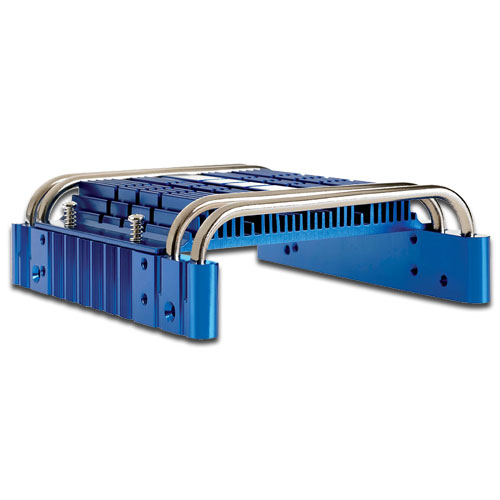 Installation of the ULT40010 is simple, aided by an eight-step illustration supplied in the packaging. The hard drive mounts underneath the cooler, with the top of the drive flush against the cooler's heat transfer plate. Screws pass through the cooler and into the standard mounting holes on the sides of the hard drive. The four rubber dampers screw into the cooler's side, in either an upper or a lower position, to accommodate the style of case that will house the cooler. There are four spring-loaded screws on the top of the ULT40010 that ensure that the cooler's heat transfer plate is firmly pushed up against the top of the hard drive casing; this will ensure maximum surface area contact and thus heat dissipation. The cooler does not use thermal paste, so this is an important consideration.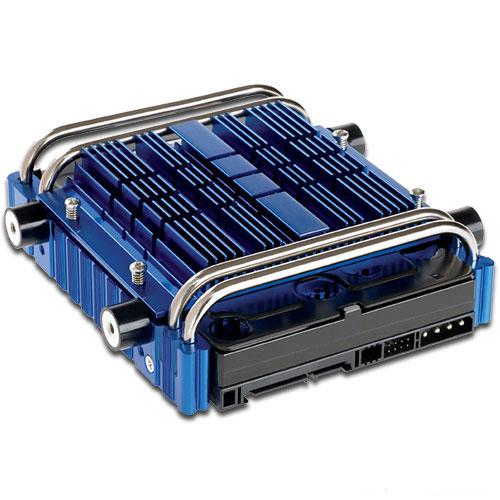 The Ultra cooler installs into a free 5.25" bay in a standard PC case. While removing the front panel isn't necessary, we found it substantially easier to install the assembled cooler from the front of the case, rather than trying to insert it from inside the case cavity. Once the cooler is in place, screws go through the PC case's mounting holes and into a screw hole in the center of the rubber dampers. This results in only rubber mounts touching the PC case, and this helps to lessen drive vibration compared to a standard metal-on-metal mount configuration. Attaching the included grounding strap to a drive mount hole on the PC case completes the installation process.