PC Power & Cooling Turbo Cool 1200W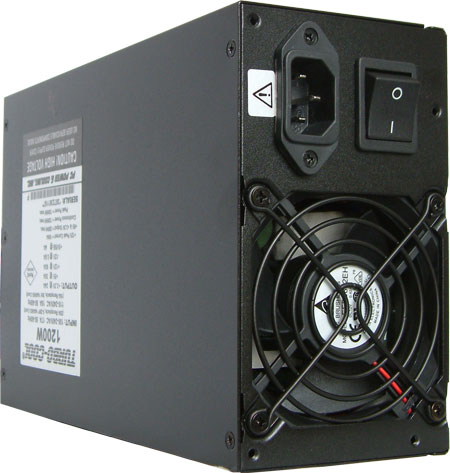 PC Power & Cooling sent us their brand new model of the Turbo Cool series rated to deliver 1200W. With its length of 23.1cm (9.1") it is definitely one of the longest power supplies we have seen so far. Obviously, these high capacity power supplies are intended for full tower cases, but whatever case you choose make sure there is ample room for an oversize PSU before spending hundreds of dollars. The Turbo Cool 1200W is cooled by an 80mm fan located at the front of the case. Our readers will probably remember our last encounter with PC Power & Cooling which was very loud indeed, and careful readers will have already discovered the small Delta logo printed on the fan on the picture above. The Delta logo means we will not have any surprises while testing; it's a three-blade fan and we expect noise levels to once again be quite high.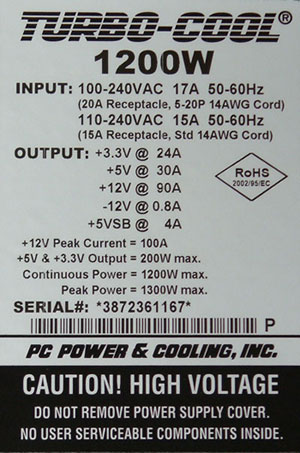 90A on the 12V rails is quite impressive and indeed it is quite hard to get this PSU on its limits with a normal system. The power supply comes in a PCP&C specific box and is protected by several layers of carton paper. There are not many accessories inside of the box since PCP&C has no need to attach little goodies like a lanyard etc. The power supply itself is black.
Cables and Connectors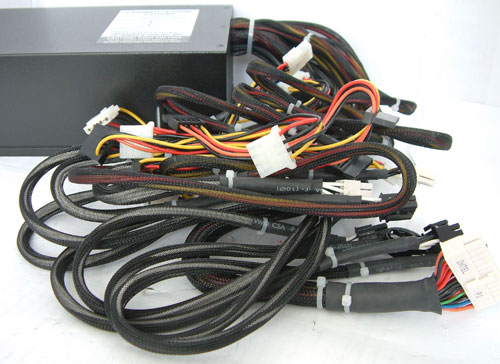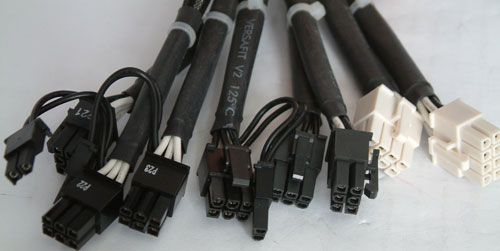 When it comes down to the cables we found a whole lot of them. Being a high performing power supply you need to have a lot of options for connecting enough hardware to fully use your PSU. While there are not as many SATA and Molex connectors attached as with the Tagan ITZ 1300W we'll see later in this article, we can see that PCP&C wanted to go a different direction in the first place. There are three 6-pin and three 6/8-pin PEG connectors attached, which gives the ability to power up even the meanest graphics card collection. AMD's TriFire has been sighted in the wild a few times, so if/when such systems begin shipping PSUs with 3/3 6-pin/8-pin PEG connections will be useful. (We'll wait and see what TriFire actually offers before rendering any verdict, of course.) In addition the Turbo Cool has two 8-pin EPS connectors for use with high-end enthusiast and workstation motherboards.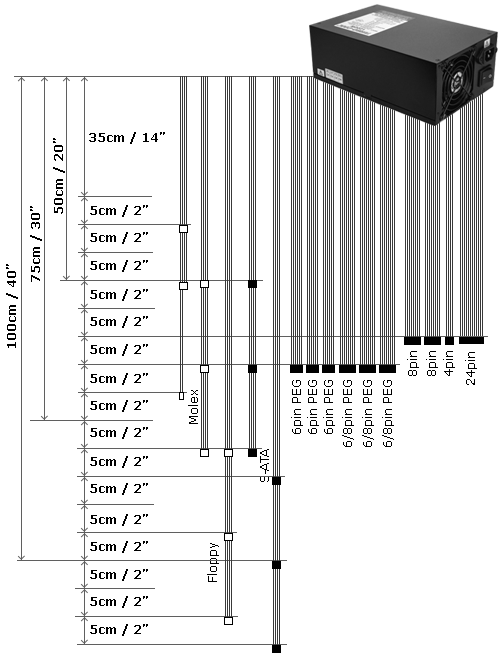 With "just" six SATA and eight Molex connectors the Turbo Cool is slightly under-equipped in the area of drive support, and there is certainly space for a few more of these connectors. A minimum length of 60cm for the main connectors is generally sufficient to reach the necessary areas in most full-tower cases. The maximum length of 115cm for SATA connectors is also very good. All the cables are nicely sleeved and the PEG connectors have white cables under their black sleeve which looks very cool. The ATX and EPS connectors are white in order to distinguish them from the other connectors.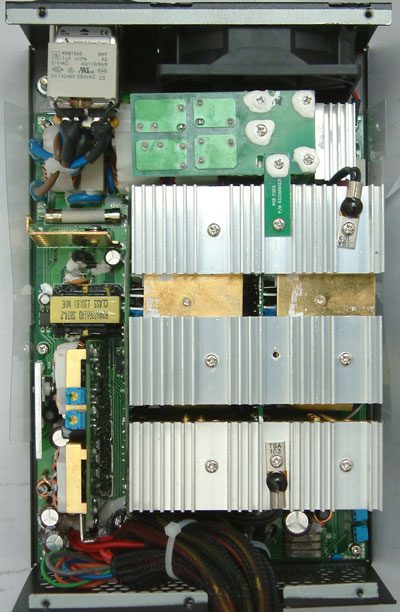 The inside view brings us a totally different approach to higher wattage than we will see in the other power supplies of this roundup. The top view is unfortunately obstructed by the various internal components, but in essence this power supply has two smaller power supplies inside. There's a shared filtering stage at the entrance in the top-left corner and upper edge of the PCB. Starting at the upper heat sink of the three horizontal heat sinks we have two vertically arranged PCBs that extend from the top-left to the bottom-right of the PSU.
Each of the PCBs has its own PFC stage and transformer and is able to deliver two 12V rails up to a load of 50A each. All other rails are then taken from the 12V rails. This is done on the small sister PCB located on the lower left side in the above picture. This kind of topology is surely a new way of doing things - we haven't seen anything like this before. However, the overall efficiency should be lowered with this approach since there is a higher loss from the voltage regulation.
There are several kinds of capacitors used by PCP&C. The two primary parts have a Hitachi cap rated at 390µF and 450V, and besides normal electrolyte caps we also have some "solid" caps which we have previously talked about in the Seasonic S12II review (as well as in motherboard reviews). An interesting side note is that a happy competitor told us that there are several severe problems with these kinds of caps such as EMI (Electromagnetic Interference). In October we will be in Taiwan for a visit to several companies, and FSP is on the list. From former visits we know that FSP has proper test equipment to measure EMI and we will definitely attempt to get evidence either for or against this accusation.
In comparison with other design layouts we can definitely say that PCP&C has a completely different approach with this design. Most of the space inside of the power supply is used by the two main PCBs, leaving little space for bigger heat sinks. All the remaining space is taken by the small, flat heat sinks - heat sinks which get very hot during use, particularly at higher loads. The biggest disadvantage is the lack of a proper airflow through the chassis. There are components and even small PCBs that protrude from the various surfaces and block airflow - not just a little but completely. It's for this reason that there is such a powerful fan installed, which is capable of sucking large quantities of air out of the PSU. Despite our concerns with the design, however, PCP&C does have a reputation of providing very high quality PSUs, and they provide a seven year warranty on the Turbo Cool 1200W which isn't offered without purpose.