Chipset Comparison
The current range of performance chipsets on the market include NVIDIA's 680i SLI, Intel's P35, and the venerable 975X that is finally being retired after a two year run. Quickly glancing over the specifications we see that Intel is the only provider of DDR3 memory support, though NVIDIA is working on a DDR3 compatible version of their upcoming 780i chipset. The X38 Express MCH offers a total of 32 PCI Express 2.0 lanes, which can be split into two PCIe x16 slots for multi-GPU configurations such as CrossFire. Although the chipset is fully capable of supporting NVIDIA's SLI technology (it runs it very nicely we might add), there will not be support for it within NVIDIA's drivers at this time.
The 975X offers a total of 16 PCI Express 1.0a lanes that can be split into two x8 slots while the P35 only officially supports a single x16 slot with its 16 PCI Express lanes. NVIDIA relies on its 680i SPP and MCP to each provide the necessary amount of PCI Express lanes for its dual x16 capabilities. As such, it requires significantly more interconnect bandwidth as graphics data is traveling across its HyperTransport based interconnect link.
The official FSB speeds for the X38, P35, and 680i SLI are listed as 800/1066/1333 with the 975X being limited to 800/1066 - although with the right board we have not had problems with the 1333FSB processors. However, the same cannot be said of the 680i SLI boards; while the chipset officially supports 1333FSB rates, we have seen several early board designs that lack the required hardware to fully support the 1333 capable CPUs, especially the QX6850 quad-cores. The same could also be said of the first generation 975X motherboards as they required significant component changes to fully support the Core 2 Duo processor series.
The X38 Express MCH also has the highest current TDP ratings, stating 26.5W when utilizing DDR3 memory and slightly more with DDR2 memory. The original numbers given to us by the manufacturers had pegged the TDP rating around 36W, but Intel's official response this afternoon has dropped it to 26.5W. NVIDIA has not published their official TDP ratings, though we estimate it be in the 16W~18W category for the 680i SLI SPP.
G35 Chipset Overview
We should see the introduction of Intel's G35 chipset in the next 30 days, which will be Intel's most advanced integrated graphics chipset and replaces the G965.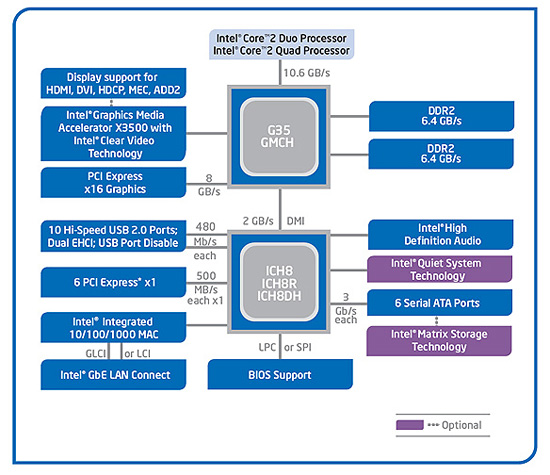 The G35 will be based on Intel's next-generation X3500 Media Graphics Accelerator. DX10 support is claimed, including full support for Shader Model 4.0 operations, although Intel does not expect to have driver support ready until late Q1 2008. (That might be a familiar tune for anyone running G965 X3100 and wondering about full SM3.0 support for Vista.) For backwards DirectX 9.0c compatibility the X3500 will also support Shader Model 3.0 and Hardware Transform and Lighting (T&L). X3500 will also offer native HDMI 1.2 and DVI output with HDCP support for HD-DVD and Blu-Ray playback at up to 1080P. MPEG2 and VC1 hardware acceleration is supported by the Intel Clear Video feature of X3500. Like the other series 3 chipsets released this year, all current Intel processors are supported as well as future 1333FSB Penryn 45nm processors.
X48
We also have some information about the mysterious X48 chipset, which may help to quell rumors. First, we do not expect to see this chipset until the end of Q1 2008 based on current roadmaps. Yes, the initial rumors about the chipset showing up in November were based on other roadmaps (the details are always subject to change). The plan was to offer it in the high-end enthusiast sector, catering to those who overclock for a living or can afford the most expensive of components.
However, with the push back in the X38 schedule and the fact that several boards might not even be available until November, this "ghost" of a chipset has been delayed. What is the X48? It's basically an X38+ to be honest. It will officially support 1600FSB (which X38 unofficially supports), offer improved memory and overclocking performance, and in some corners of the universe it might even bring world peace. We understand it to be the Racer X version of Speed Racer and nothing more.
Quick Thoughts
The X38 Express chipset is "officially" launched as of today and it brings a great deal of promise with it for the enthusiast user. However, as impressed as we are with the specifications and some early performance results with the latest BIOS releases, this launch has been anything but smooth. Intel has been executing extremely well this past year in all phases of their business, but the launch of their premiere performance chipset has been totally botched in many areas.
It has been a very disappointing process for us and even more so for the manufacturers from what we understand. We can only wonder what the early adopters of the boards think, but we will say that problems are being fixed quickly now. Hopefully the pitfalls in this launch process do not foretell what we will experience with the upcoming Penryn roll out. If it does, AMD might get some positive press at the end of this year when 790FX and Phenom are introduced.