Blackbird 002 Pricing
At present, there are three models of the Blackbird 002 listed on the
HP website
. However, you can call HP Gaming to further customize your own system. Arguably the most interesting option is to just go for the all-out "Dedication Edition" that has been available for a couple weeks. Only 518 of these systems will be sold, but because these are mass-produced (relatively speaking) there are some savings on the total price. So let's start with the Dedication Edition and see how HP does in the pricing department.
HP Blackbird 002
Dedication Edition
Component
Price
CPU
Core 2 Extreme QX6850
(Quad-core 2x4MB Shared cache OC to 3.33GHz)
$1,035
Motherboard
ASUS Striker 680i SLI - Customized
(CrossFire support enabled)
$300
RAM
2x1GB Corsair Dominator PC2-6400
$150
GPU(s)
2xGeForce 8800 Ultra 768MB
$1,220
Hard Drive 1
Western Digital Raptor 160GB 10k RPM
$180
Hard Drive 2
(Seagate) 500GB 7200 RPM
$100
Optical Drive 1
20X DVDR with LightScribe
$40
Optical Drive 2
20X DVDR with LightScribe
$40
Power Supply
TOPOWER 1.1kW Modular
$325
Case
HP Blackbird 002 Custom
???
Cooling
Asetek CPU/GPU Cooling Kit
$450
Keyboard
Voodoo Razer Gaming Keyboard (Tarantula)
$75
Mouse
Voodoo Razer Gaming Mouse (Deathadder)
$47
Operating System
Windows Vista Ultimate (32-bit)
$180
Warranty
HP 1-year limited hardware and technical support
$0
Assembly
HP gaming division assembly and tuning
???
Total Estimate
(Not counting case and assembly)
$4,142
Actual Price
(Without shipping and tax)
$5,500
We used Google in order to search for prices on most of the parts, but we tried to narrow down our retailer choices to companies that we consider "reputable" so we aren't simply grabbing the cheapest price we could find online. Some of the prices do involve some guesswork - for example, getting the water cooling system with all of the necessary water blocks preinstalled seems to be worth about $450 to us, though technically you could pick up a similar water cooling setup for closer to $300. How much you think getting a preassembled computer is worth - not to mention overclocking of the CPU without voiding the warranty - is another unknown. Finally, there's the case itself, which we can easily estimate at costing more than $300, but how much more? All told, it appears that the case, CPU overclocking, and system assembly carries a charge of around $1400 on the Dedication Edition.
A lot of people might initially react to the price of the system with an outraged demand of, "How can they possibly expect anyone to pay that much money for a computer?" While we certainly wouldn't suggest that everyone needs to go out and spend $5,500 on a computer, the reality is that the HP Blackbird 002 Dedication Edition is hardly a rip-off when compared with do-it-yourself prices. This is an absolutely top-quality computer with a unique case, and you basically get it for a price that is relatively competitive with what it would cost for you to assemble such a system on your own. Depending on how you might want to change things, you might be paying as little as a 15% premium which seems reasonable to us.
Update: We initially included a Blu-ray/HD-DVD drive in our price list, as the test system includes one and we mistakenly thought the Dedication Edition did as well. We apologize for any confusion this may have caused.
For quick contrast, we took a look at a couple of other similarly equipped systems from boutique computer vendors. Specifically, we looked at Alienware's Area-51 ALX, Falcon Northwest's Mach V, and VoodooPC's Omen. The cheapest of these three is the Alienware, which will cost around $6,000 when configured similarly to the Blackbird 002. (Dell's XPS 720H2C also carries a similar price.) The Mach V will cost around $7,600 without a custom paint job, or about $8,200 with a single color paint scheme and as much as $10,000 if you want to go all out on the case graphics. VoodooPC doesn't offer the Omen without a high-end paint job, and the price ends up starting around $8,000. The closest we could come to matching the price of the Blackbird 002 was with ABS Computers, where we ended up at $5,200 but with a pretty generic case.
Other than a difference in case designs and minor component changes, why on earth would anyone even consider one of these more expensive offerings? We can't speak for all of the companies, but we did discuss this with VoodooPC/HP Gaming a bit. What it all comes down to is production facilities. VoodooPC builds all of their systems on an individual basis. From start to finish, each system is handcrafted by a single technician. This goes beyond merely installing the parts and software; after initial setup, each system is tuned and tweaked for optimal performance, and an attempt is made to eke out every last bit of power from each component.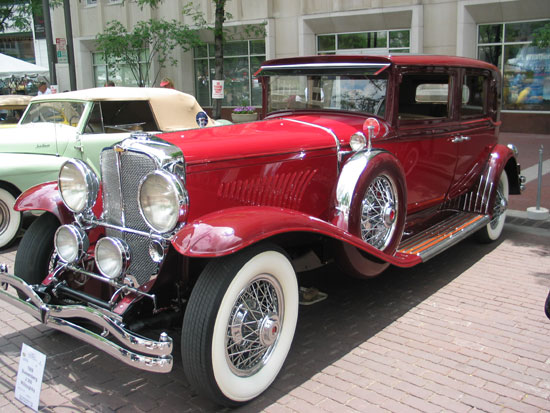 Image courtesy of the Wikipedia Commons
In a sense, you're paying for the modern computer equivalent of a Duesenberg: a system built by hand rather than on an assembly line. The Blackbird (and most likely the Alienware ALX) step back a little bit and give up the last few percent of performance in order to bring a decent amount of savings to the end-user. Not surprisingly, the assembly line approach also results in the ability to roll out systems a lot faster; lead times on most boutique computer systems tend to be a month or more. A customized Blackbird 002 currently has a one-month lead time, but the Dedication Edition is more readily available and we expect the lead time for customized builds to drop down to a couple weeks or less in the future.