There is no doubt that the top heatpipe tower air coolers perform very well. Test results have shown the best heatpipe designs with side facing fans have cooled processors better than any air cooling design. These top heatpipe towers also
outperform the entry level water cooling systems
we have tested.
Why then is it important to test smaller coolers and hybrid designs? The biggest reason is the size of the heatpipe tower coolers. While they will fit most of today's motherboards, the top heatpipe towers are heavy and bulky. This creates concerns in mounting the coolers, and long-term questions about whether a side-hanging weight in a tower case is really good for your motherboard. Manufacturers have addressed the mounting and weight issues in many different ways, but the fact remains that for some users something smaller would be better.
This was clearly demonstrated with the tremendous success of the
Thermalright Ultima-90
as our review found this smaller, lighter cooler performed about as well as the best full-size heatpipe towers. When mounted with a 120mm fan, the Ultima-90 is a top performer and user comments and sales figures show this is appealing to many buyers.
Finally, as reasonable as the top heatpipe towers are, some readers don't want to lay out $50 to $70 for a top air cooler. They would be happier at the $30 to $40 price range with perhaps a minimal loss of performance. Not everyone wants to run their CPU at the top edge of performance and they would welcome a smaller but still effective cooler that meets their needs.
The smaller cooler presents something of a dilemma for buyers who value silence above all else. Review after review shows the large cooling fans used on the top heatpipe towers can generally move enough air for effective cooling while still maintaining a slow speed and low noise levels. The smaller and cheaper coolers generally use smaller fans at higher RPMs which generally creates higher noise. This conundrum that smaller equals noisier is a constant frustration for fans of ultra low noise coolers.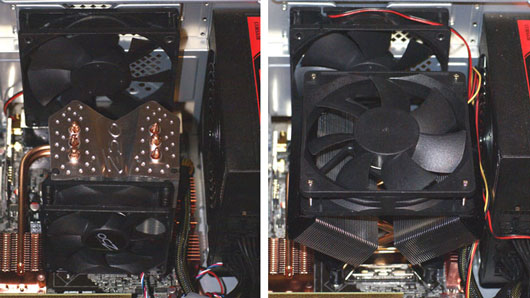 This time around two new air coolers are going through the tests in our new cooling testbed. As you can see they may be similar in price, but the coolers are quite different in size. The OCZ Vendetta is very small and almost looks lost next to the Scythe Kama Cross with a 120mm fan mounted. These are the first air coolers tested in the new cooling testbed, so we also retested a few previous coolers and will report results with CoreTemp instead of NVIDIA Monitor.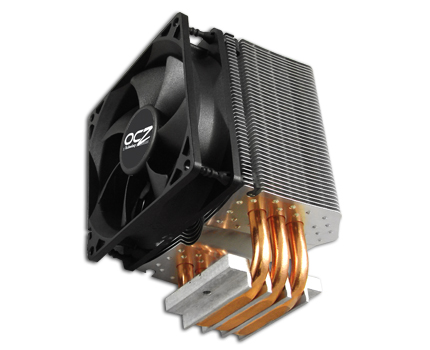 OCZ has just introduced the OCZ Vendetta. This small cooler, based on a Xigmatek design, looks like a shrunken version of the top side-fan heatpipe towers with a few innovations in the shape and turbulence characteristics of the stacked fins. The best way to understand the size reduction is that the Vendetta uses a 92mm fan instead of the 120mm used on full-size heatpipe towers.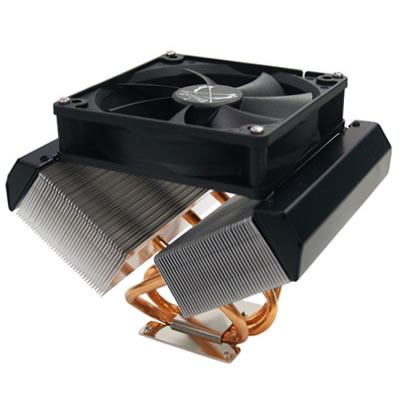 The Scythe Kama Cross takes a completely unique approach to a mid-priced cooler design. It is not really smaller than other heatpipe towers, but it does combine components in a slightly different way. The Kama Cross twists heat pipes in an X configuration with a top mounted fan. The idea is to combine the best of the down-facing-fan coolers with the proven cooling abilities of the side fan by mounting fins at 45°. The shipping fan is a 100mm fan, but Kama Cross is also predrilled to mount a 120mm instead. Whether this hybrid approach really works or not will be determined on the test bench.
Smaller and cheaper cooling towers are a great idea - as long as they work. No one expects that they will perform quite as well as the top designs or they would be priced accordingly. However, the real question is how little you have to give up with these mid-priced designs? Are they a good cooling value?