General Performance
SYSMark 2007 takes 14 current desktop applications and runs groups of them through four different scenarios categorized by BAPCo as E-Learning, Video Creation, Productivity, and 3D.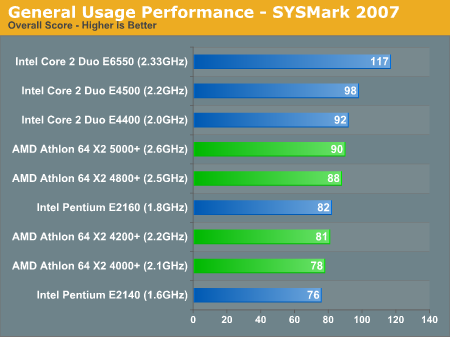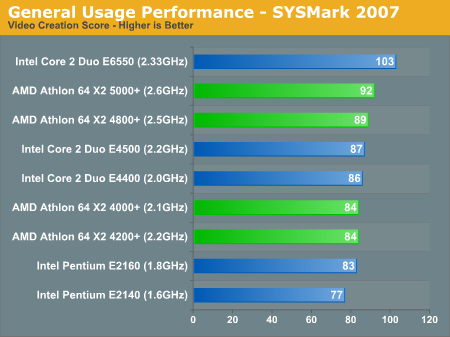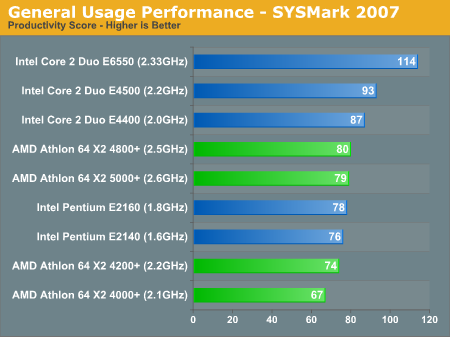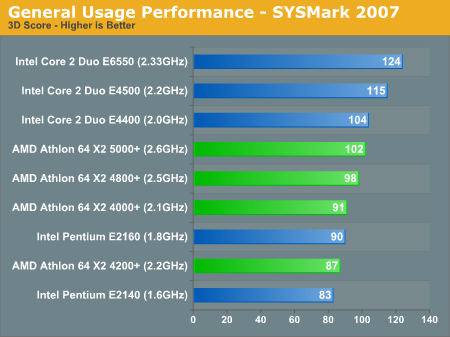 Overall performance is slightly in Intel's favor when we look at the matchups we outlined at the beginning of the article. The Core 2 Duo E4500 is slightly faster than the Athlon 64 X2 5000+, but the margin of victory shrinks considerably when we look at the E4400 vs. Athlon 64 X2 4800+. The difference between the E4500 and E4400 is 200MHz, or about 10%, while the difference between the 5000+ and 4800+ is only 100MHz and less than 4% of the clock speed of the 5000+, resulting in a narrowing gap as we head down in price on Intel's side. For all intents and purposes, the Core 2 Duo E4400 is the same speed as the Athlon 64 X2 4800+, and on the AMD side there's no real reason to purchase the 5000+ as it doesn't really offer a tangible performance advantage over the slightly cheaper 4800+.
The race is also close at the very low end. The Athlon 64 X2 4000+ (and X2 BE-2350) is very close to the Pentium E2160 in performance, although Intel gets the slight edge. Unlike competition at the higher end of the CPU spectrum, AMD and Intel are neck and neck with their mainstream CPUs in general usage.