The Core 2 Extreme QX9650: The First Desktop Penryn, November 12th
Intel announced details of its first quad-core Penryn (Yorkfield) processor, due out on November 12th - the Core 2 Extreme QX9650.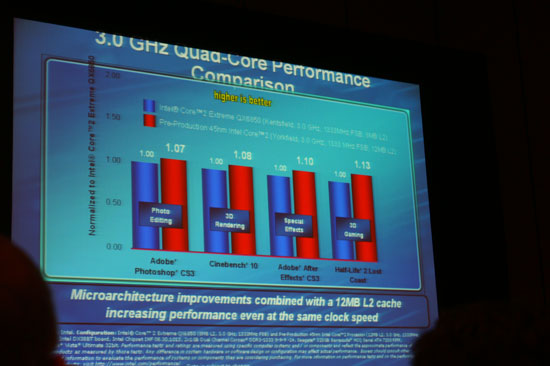 The QX9650 features four 45nm Penryn cores running at 3.0GHz with a 1333MHz FSB, and a total of 12MB L2 cache (6MB per two cores). Like all Extreme Edition processors, the QX9650 will ship unlocked.
Given the name, we'd expect to see it at the $999 price point of other top end Extreme Edition processors. The QX9600 will have the same 130W TDP as its predecessors.
Penryn SFF
In this morning's keynote Intel mentioned that it would be reducing CPU and chipset package size by the end of 2008 and we now have clarification on that statement. Intel's Montevina mobile platform due out in the second half of 2008 will offer small form factor versions of mobile Penryn, the Cantiga North Bridge and the South Bridge: