The clock has "ticked" and Intel has released a refresh to the quad-core Xeon line-up, code-named
Harpertown
. AMD has also finally released their quad-core Opteron, code-named
Barcelona
. Intel is on what they like to call a tick-tock release cycle of processors. Every "tick" is a refresh of the current architecture, and a "tock" represents a new architecture. AMD doesn't seem to be on any pattern of release cycles, and the
Barcelona
launch is a bit late and not as well organized as some of their previous product launches.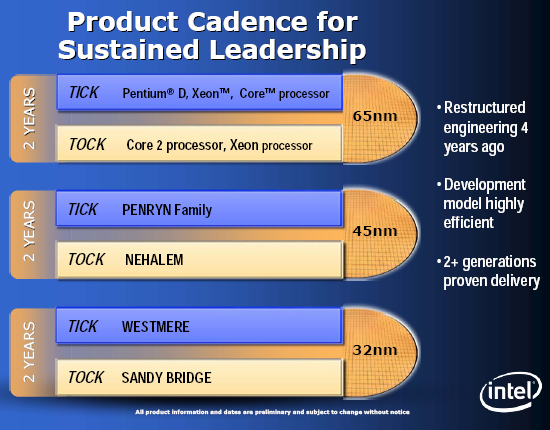 Harpertown
will launch with clock speeds all the way up to 3.16GHz, and will also ship two low voltage parts (2.3GHz and 2.6GHz). The rumor mill speculates that Intel may be able to reach 3.4GHz with the new 45nm process shrink.
Barcelona
on the other hand is launching at 2.0GHz with speeds down to 1.7GHz. There will be three low voltage
Barcelona
parts at launch: 1.7GHz, 1.8GHz and 1.9GHz. Frankly, it's more than a bit disappointing that AMD wasn't able to launch at higher clock-speeds; however, they are planning to have higher-clocked parts towards year-end that will only require a few more watts to run.
For quite some time now Intel has been living the high-life in the quad-core arena, even though both AMD and the media criticized them for gluing two dual-core processors together to create their quad-core product line. AMD has lost market share to Intel over the past couple of years, mostly due to the success Intel has had with their current Core architecture. One does wonder if AMD might have sat too long on the Opteron before making head-way into a new design or moving along a bit quicker to quad-core; yes, there was work happening, including an aborted architecture, but when you're fighting the reigning heavyweight such mistakes can be costly. Obviously, AMD has had a rough year with respect to their finances, but hopefully they are on the mend and
Barcelona
is the beginning of an upswing.
We've already looked at
Barcelona
in
several
previous
articles
, but
Harpertown
is the new kid on the block this week. That being the case, we'll start with a closer look at Intel's latest addition to their lineup.