The launch of the Intel X38 chipset is just a few days away (after several delays, 9/19 update - Launch is moved to October 11th) and we have a feeling the product managers and press relations personnel in and around Santa Clara are a bit nervous at this point. While the P35 launch was a bit convoluted as product was available on the street before the launch date, the X38 launch is heading down a slightly different path.
Everyone we spoke to just over a month ago expected the same launch situation that we had with the P35. Boards would be hitting certain distribution channels before the press launch date and everyone would be scrambling to figure out which board best met their needs. Well, it's not going to happen that way now. In fact, most manufacturers are scrambling at this point to get boards ready for the press activities on Monday. At this point, they are wondering if there will even be sufficient quantities of product in the distribution channel for a smooth launch. So, what happened?
It seems the X38 was not exactly ready for a grand debut on the 24th after all. We thought it was ready based on what was supposed to be final board designs a couple of weeks ago, but it turns out a few technical issues arose during final QA testing and Intel had to respin the X38 chipset. The chipset has passed the final quality hurdles and is now in full production with quantities being delivered to the major manufacturers. That's the good news, but many manufacturers are still scrambling to get boards ready.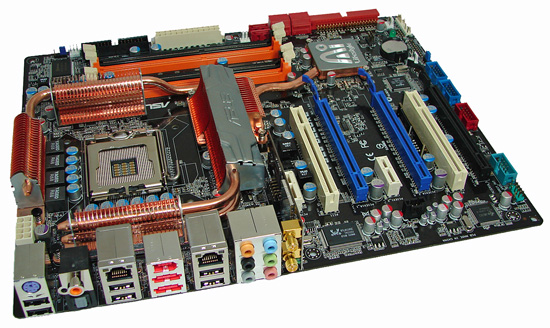 Click to enlarge
After discussions this evening, it does appear that retail boards should arrive from a few motherboard manufacturers by early next week, but we do not expect the channel to be full until sometime in October now. This includes additional designs from the launch partners and competing solutions from other suppliers. While that is disappointing to us, we understand the situation and applaud Intel for making sure the chipset is actually ready for the market before releasing it. It appears they have learned their lessons after the rough P965 debut last year, at least.
In the meantime, we have been testing one of the first X38 boards with DDR3 capabilities for the past couple of weeks. ASUS sent us their new P5E3 Deluxe for an early look at the board design, performance, and new features that will be included when this board is released shortly. Although it turns out this board is not based on final silicon, the performance and stability have been excellent in testing to date, and it comes with a very nice feature set.
With that in mind, we are going to provide a very early look at the feature set and a few benchmarks that show its potential. The BIOS is still maturing and based upon the improvements we have seen over the last five releases, this chipset is looking more and more like a winner, especially in a DDR3 configuration. We just hope retail boards make it in time for the launch date; if not, we will have a lot of nice graphics to look at and will then move on to a very interesting product launch from the guys in green on the 25th.
Let's take a look at the feature set of the ASUS P5E3 Deluxe and check out preliminary performance in a handful of benchmarks.