Feature Summary
We've covered a majority of the features already, but before we get to the actual benchmarks we thought we would summarize all of the system details and highlight any other areas that we have not discussed so far.
HP Blackbird 002 LCi
Case
HP Custom "Blackbird" ATX
Motherboard
ASUS Striker Supreme
Processor
Core 2 Extreme QX6850 Overclocked
(Quad-core 11x333MHz 3.67 GHz 2x4MB shared L2 cache)
Heatsink/Cooling
Asetek LLC Liquid Cooling for CPU/GPUs - Factory Sealed
1 x 120mm front case fan
2 x 120mm top case fans (for radiator)
RAM
2x1024MB Corsair Dominator PC2-8500
(CM2X1024-8500C5D)
Graphics
AMD Radeon HD X2900 XT 1GB x 2 (CrossFire Capability)
Hard Drives
1x160GB Raptor 16MB 10000 RPM SATA 1.5Gb/s (WD1600ADFS)
1x750GB Seagate 16MB 7200RPM SATA 3Gb/s (ST3750640AS)
Optical Drives
Slot-Load DVDR with LightScribe (TS-T632L)
Blu-ray Rewriter/HD-DVD Reader (HL-DT-ST BD-RE GGW-H10N)
Expansion Slots
3 x PCIe X16 (dual x16, single x8)
1 x PCIe x1
2 x PCI 2.2
Expansion Bays
5 x 3.5" internal bays
Audio
Analog Devices AD1988B
Power Supply
1.1 kW Modular Cable Design
Operating System
Windows Vista Ultimate 32-bit
Front Ports
15-in-1 Flash Reader
2 X 3.5mm Audio (Headphone and Microphone)
1 x 6-pin IEEE 1394, 2 x USB2.0
Rear Ports
Optical and Coax S/PDIF Out
2 x RJ45 GbE
4 x USB2.0
1 x 6-pin IEEE 1394
2 x eSATA
LCD POST Panel
LED Switch
Dimensions
23.5" x 9" x 22" (HxWxD)
Weight
72 pounds
There's plenty of room for additional hard drives, but the configuration we received includes a single 160GB Western Digital Raptor and a secondary 750GB Seagate 7200.10 drive for mass storage. The Blackbird also includes dual optical drives; one is a slot loader DVD-RW while the second is a combination Blu-ray writer/HD-DVD reader. Not sure which optical format will win out in the coming high-definition content wars? The Blackbird has you covered, at least in terms of reading media. We do have to mention, however, that the slot load drive makes a decent amount of noise when you first start up the system - it sounds as though it's trying to eject a disc, whether or not one is installed.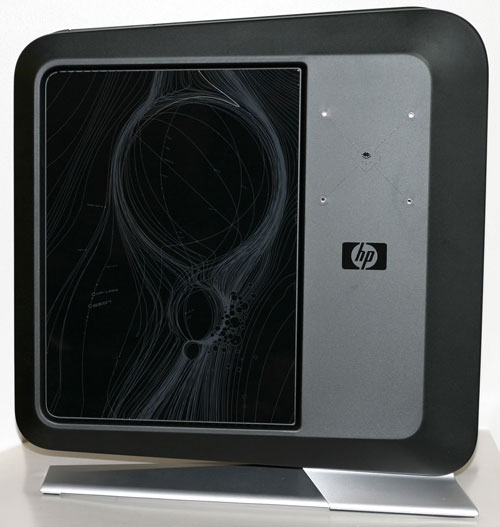 All of the usual suspects are present for the remainder of the system: Gigabit Ethernet (two ports), plenty of USB ports, FireWire, and HD audio. A small (relative to the rest of the case) hatch pops up at the top-front of the case, providing access to a couple USB ports and a FireWire port, microphone and headphone jacks, and flash memory readers for pretty much every conceivable memory type: SM, SD, xM, MS, CF, and MMC (and probably a few other formats besides).
A large 1100W modular power supply keeps all of the components happily juiced up, and provides plenty of room for expansion in the future. Our power supply testing has revealed that optimal efficiency usually comes in the 30%-60% load range, so with the given configuration the Blackbird 002 will usually fall into that area. We'll have more details on the power numbers later.
Considering that HP has included pretty much everything plus the kitchen sink, there is one notable omission. Audio is not provided by a dedicated sound card, although it does come on a riser card. ASUS uses the Analog Devices AD1988b audio chip, which we have generally found to be slightly better than the Realtek and other onboard solutions. In the past, we have recommended that gamers and other audio enthusiasts use a dedicated sound card, but Windows Vista has thrown a bit of a monkey wrench into that recommendation. Specifically, we have serious concerns about recommending a Sound Blaster X-Fi card for any Windows Vista system at this point in time. When the drivers do work, and with a little bit of extra effort on the part of the user, you can still get enhanced sound effects; however, we are content to sit this one out for a little while longer. In other words, while the lack of a dedicated sound card might seem like a flaw, we're not particularly concerned for the time being - users can always add one later if they feel it's necessary.