CoolGuard and PowerGuard

CoolGuard is a newly invented function Enermax has implemented in the Infiniti series. Similar functions have already been available on the market for a while from other manufactures, but the idea is that CoolGuard runs the installed fans in the system for a short time even after the PC is shut down. The problem Enermax is addressing is the lack of cooling after PCs are turned off. The fans are turned off with the system but components like the CPU and GPU can still be quite hot. In some cases, with no fans moving a system might even heat up slightly after shut down. According to Enermax the CoolGuard function will lengthen the life expectancy of the components through a better cooling even after the system is turned off. Depending on PSU temperature, the fans will continue to run for anywhere from ten seconds to two minutes.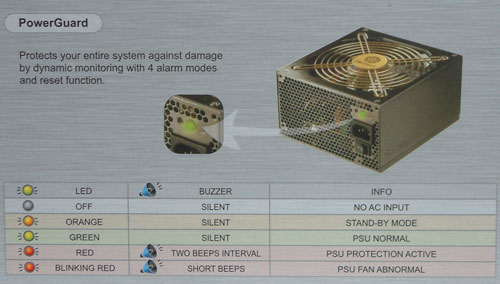 A little LED on the backside of the PSU shows if the PSU is working correctly or has experienced a failure. During testing we have indeed verified this feature works; under high temperatures of 50°C we managed to get the red light to activate and we were greeted with two beeps repeated at regular intervals, which means that the PSU has shut down to prevent overheating.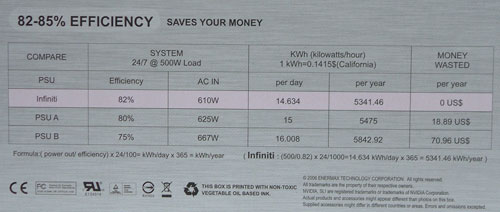 Packaging and Appearance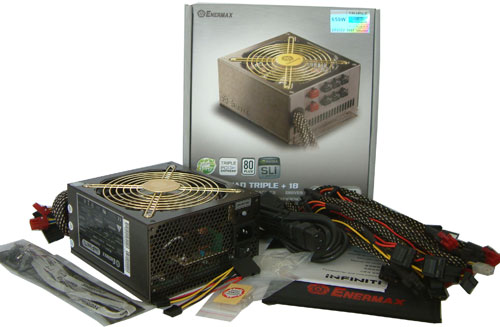 The Infiniti power supply comes in a big box with enough space for all the accessories. Since Enermax is mostly focused on the enthusiast retail market, we are greeted with several extras for the customers like a lanyard, stickers, and silicone covers for unused cable sockets. There is also a splitter cord in the box for two floppy drives that can be connected to a normal Molex connector. Of course there is also the usual stuff like a power cord, manual, and a small bag that can be used to store extra cables. Our power supply wasn't covered in bubble wrap, but there's enough space and padding on all sides that the PSU should be relatively safe from any damage that could occur during transport.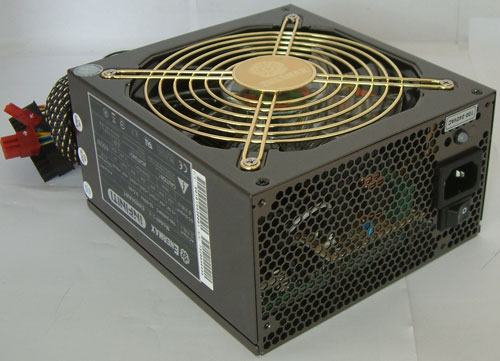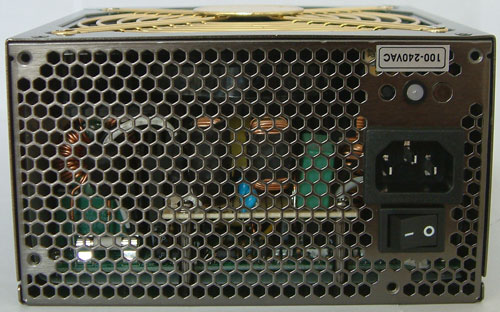 The Infiniti comes in a nice brushed finish with a copper/titanium-like color. The huge 13.5cm fan has a golden fan grille that makes a very good first impression (if you care about looks). The rear of the PSU that will serve as the exhaust when the unit is installed is perforated on the entire surface. Enermax uses hexagonal shaped holes which seem to be the best solution in terms of noise, airflow, and rigidity while still being small enough to prevent EMI issues.