Introduction
Enermax is another manufacturer that has been in the market already for quite a few years now. In fact, Enermax was the first company to release major retail products, and they actually introduced the first color painted power supply to the market. Enermax as a company has been at the forefront of introducing new technologies and conforming to the latest ATX specifications. Their tight relations with companies like Intel, AMD, and NVIDIA certainly help in this regard.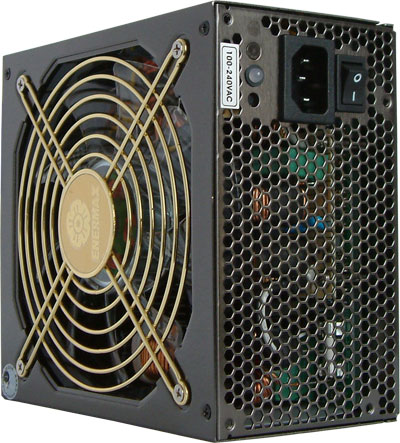 Today we have the latest model from Enermax: the Infiniti series in its 650W version. The Infiniti series was introduced about a year ago and we saw early samples in Taipei at that time. We were surprised by the high efficiency of the Infiniti when we first had a chance to look at one, and now we finally can review a shipping retail unit. Enermax has also added another new technology with this PSU called CoolGuard.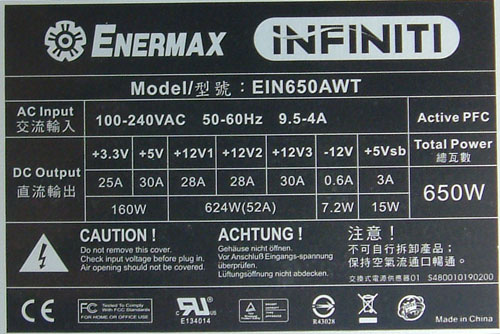 The label shows three 12V rails, two with 28A and the third with 30A. The lower voltage rails are similarly rated and don't differ much from previously tested power supplies. With the three 12V rails Enermax has taken a different approach to the limited amperes problem than other manufacturers. We have mentioned this before in reviews of single 12V rail power supplies, where some manufacturers have tried to solve the problem of important 12V rails not delivering enough power in high-end system by having a single high amperage 12V rail. With 28A and 30A Enermax has a better approach, since there are currently no components that wouldn't be satisfied with 336W or 360W. Even better is that Enermax lists the real combined 12V amperage (52A), so while each 12V on its own is capable of delivering a decent amount of power, the total between the three rails is less than their sum. Enermax's OCP is around 32A to 34 amps in most cases, even though they list 28A on the label for two of the rails.