Software Rendering: zVisuel (32-bit Windows)
This benchmark is the
zVisuel Kribi 3D
test, which is exclusive to AnandTech.com and which simulates the assembly of an exclusive mechanical watch. The complete model is very detailed with around 300,000 polygons and a lot of texture, bump, and reflection maps. More than 1000 frames are rendered and the average FPS (frames per second) is reported. All this is rendered on the "Kribi 3D" engine, an ultra-powerful real-time software rendering 3D engine. That all this happens at reasonable speeds is a result of the fact that the newest AMD and Intel architectures contain four cores and can perform up to eight 32-bit FP operations per clock cycle and per core. The people of zVisuel told us that - in reality - the current Core architecture can sustain six FP operations in well optimized loops.
The 3D model of the benchmark in the middle of its assembly
Can the newest AMD architecture sustain the same amount of massive FP power? Eric Bron provided us with a benchmark which is based on real world use by a well know zVisuel client. The first benchmark does not use antialiasing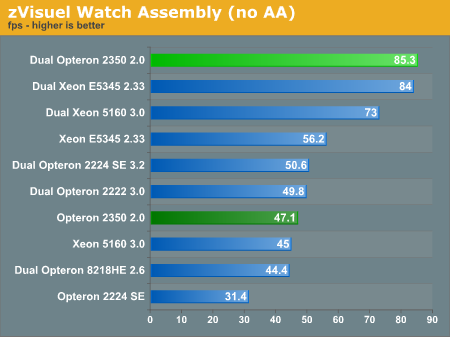 The tables are turning: while the newest AMD quad-core had to let the faster clocked Intel quad-core Xeon go in the LINPACK tests, it takes a small but still measurable lead in zVisuel. Notice that the Intel CPU has the advantage when it comes to raw processing power: it is about 19% faster in a single CPU configuration. Once you add a second CPU in both systems, that 19% lead is turned into a 3% advantage for AMD. Also note that a 2GHz Quad Opteron 2350 is about as fast as a dual 3GHz Opteron 2222 DC.
Be aware though that you need the Enterprise edition of Windows 2003 to see this kind of performance.
The 32-bit Windows 2003 standard does not support NUMA
and
the bandwidth hungry AMD quad-core does not like that at all
. Performance was up to 14% (!) lower, showing only 73 fps instead of 85 fps.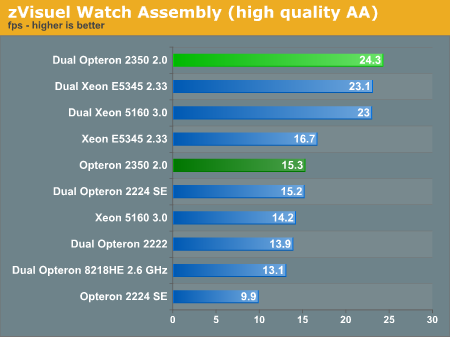 We performed the same benchmark, but with antialiasing applied. AA makes the application a bit more memory intensive. The AMD quad-core extends its lead from 3% to 5%, and a single 2GHz quad-core is now capable of even outperforming a 3.2GHz dual Opteron SE 2224.
The LINPACK and zVisuel benchmarks make it clear that Intel and AMD have about the same raw FP processing power (clock for clock), but that the
Barcelona
core has the upper hand when the application has to access the memory a lot.