WinRAR 3.62
Many servers and workstations have to compress a lot of data. WinRAR is one of the most popular compression applications and now features a multi-threaded benchmark. Compression algorithms work on large streams of data, so fast memory access is important.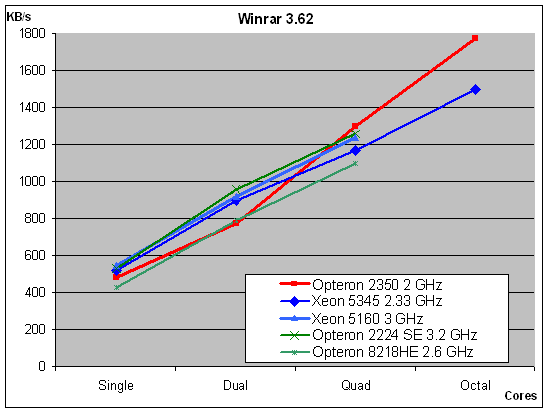 The "dual-core score" has been obtained by setting the affinity of WinRAR to only two adjacent cores. This might lower the score a bit, but it is the best we were able to do right now Looking at the curves, the real dual performance is probably about 10% higher in reality. Even then, it is clear that once again the AMD quad-core scales better than the other CPUs. It also beats a 3.2GHz Opteron 2224, which is quite impressive. The picture gets clearer as you compare the gains from extra cores in percentages.
WinRAR Scaling
Core
Dual vs Single
Quad vs Dual
Octal vs Quad
Opteron 2350 2 GHz
59%
68%
36%
Xeon 5345 2.3 GHz
73%
30%
28%
Xeon 5160 3 GHz
68%
34%
N/A
Opteron 2224 SE 3.2 GHz
81%
32%
N/A
Opteron 8218HE 2.6 GHz
85%
40%
N/A
While the quad versus dual percentage increase of the
Barcelona
core is somewhat exaggerated, it is pretty obvious that
Barcelona
scales better.