Barry Sonnenfeld and his VW200
In order to talk up the VW200, Sony invited Barry Sonnenfeld on stage to talk about his experiences with the projector. Sonnenfeld is a director/producer with such credits as Get Shorty, Out of Sight, Men in Black and from earlier in his career as director of photography on When Harry Met Sally and the Tom Hanks classic, Big.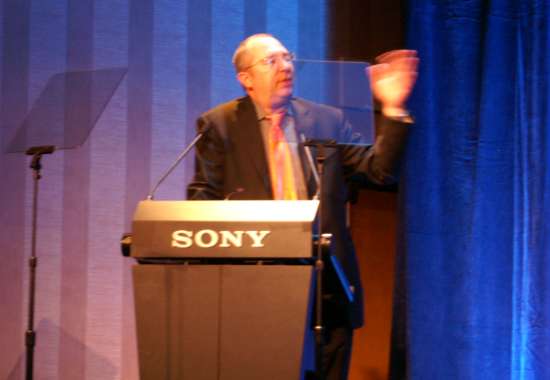 Barry took us through his history of home theaters, starting with his first one in the mid 90s at his mansion in East Hampton, Long Island.
Barry went nuts with this theater, he had all curved walls and construction alone must've cost around $500K (according to him). Steven Spielberg, whom Sonnenfeld likes to call "Spiely" because it annoys Steven, would come over and smoke cigars in the theater as it had a wonderful ventilation system and Spielberg's wife apparently wouldn't allow him smoke at their house.
This first theater had a Sony G90 CRT projector, as well as film projectors in it. Barry built it because you can honestly get a "better movie going experience at home than in a movie theater" which is "very unfortunate" he added; citing poorly implemented sound systems and corrosive spills on the floor doing who knows what to your shoes.
Sonnenfeld then sold the mansion in East Hampton, the children had all moved out and he and "sweety" built a smaller home. In the new home he built an all-digital screening room and got a phone call from Sony's Mark Finer. Mark suggested that Barry check out the new (at the time) Qualia 004, Sony's first 1080p SXRD projector - widely regarded as an amazing product. Barry was quick to point out that Mark introduced the Qualia 004 "at list price", Sony never cuts anyone a break it seems.
Barry got the Qualia and loved it, he even told us about how he had spent around $20K on building a rear soffit in the screening room to air condition and hush the projector that would inevitably be back there, only to have to tear it down because the Qualia was so quiet.
Sonnenfeld added another home in Colorodo to his stable: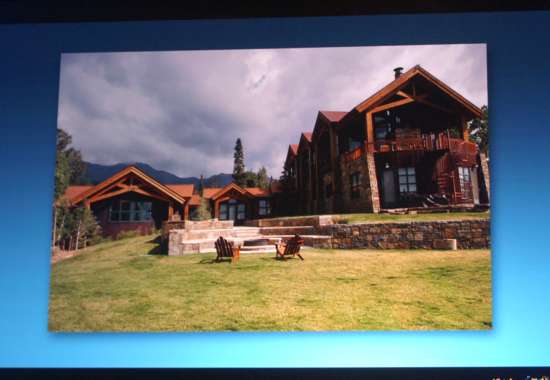 He showed us the view in the Summer: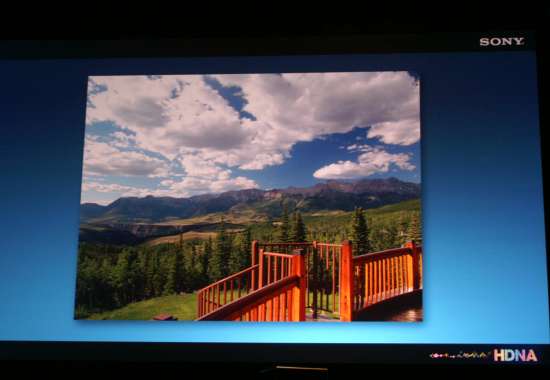 And the view in the Winter: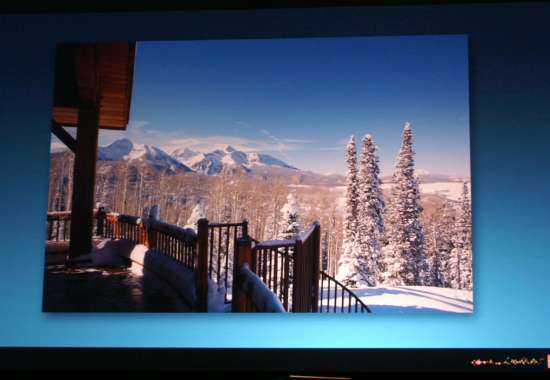 Adding: "the problem with that view, is that you wife makes you go out and walk in it." The problem here is that "my house is at 10,000 feet and I'm jewish", Sonnenfeld explained that he was somewhat afraid of having a massive heartattack walking in the snow at his new home: he needed another theater.
Barry eventually convinced his sweety to build another screening room, mainly to avoid death and bears in the summer. And here's a shot of that screen room: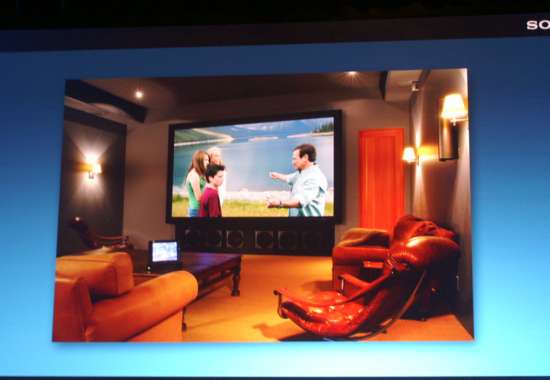 Barry added: "oh, I directed that movie, available on Blu-ray by the way...Did you hear that I said Blu-ray Finer and not Bluetooth?"
This screening room had a Stewart Firehawk grey screen, which Barry added was a mistake as he didn't need one. Sony had him use a VW100, and although he liked it, he didn't love it as much as the Qualia. The latter wasn't an option as Sony had stopped selling it, so Mark Finer brought over a prototype VW200.
Obviously Sony had Sonnenfeld up there for a reason, and this quote about the VW200 should explain why: "[the V200] is an amazing projector" and like the Qualia, Barry said that it was "super quiet so you don't have to box it in".
If anyone is thinking of building a theater in Colorado, Barry offered the following advice:
"At 10,000 ft nothing works, not only can you not breathe but you can't have gas plasma televisions because they sound like neon bar signs."
"I outbid the city of Montrose, CO for the emergency generator for their hospital...well please, they'll get another generator".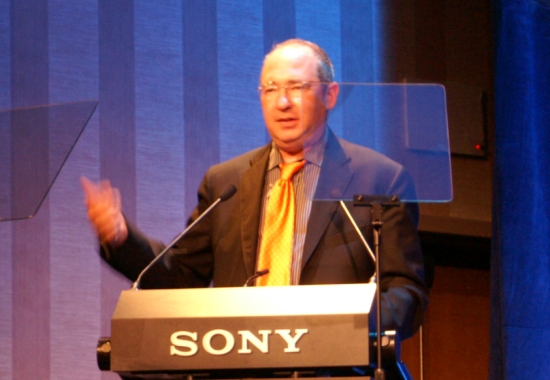 Barry Sonnenfeld's contributions to the Sony press conference were far more entertaining than anything else we'd been through today, thanks Barry. We'd have to see how the VW200 performed for ourselves, but you'll undoubtedly hear resellers recanting Barry's story as they attempt to sell the VW200.