Intro
With this review of the Serene we now have our second Zippy power supply for review. For those unfamiliar with the company and its roots, we suggest reading our
first Zippy review
as well. Zippy has been around for quite some time and in the server world they are recognized as having one of the highest qualities available in the market. Zippy is located in a suburb of Taipei called Xin Dian (Hsin Tien) and manufactures all of their power supplies in their factory over there.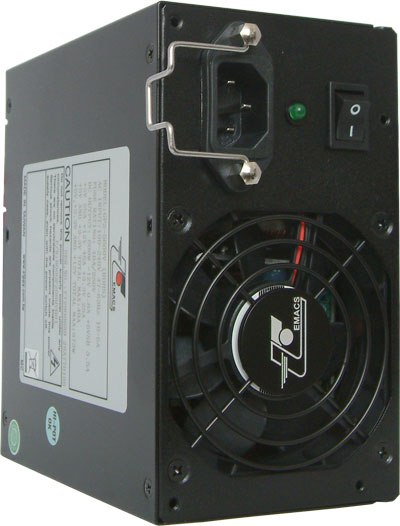 They are known for having extremely reliable server power supplies, but recently Zippy has made the step into the retail desktop PSU market with several high class offerings. The Gaming G1 power supply in our last review exhibited very high quality, but it could still use quite a bit of improvement in order to better target the retail desktop PC market. Today we will be looking at the Serene 600W (GP2-5600V), a power supply that was built with the goal of having the best efficiency possible. The package claims 86%, which is quite a lofty goal for a retail product.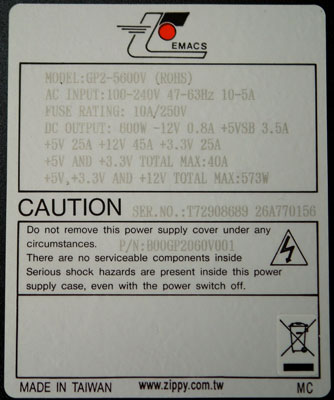 As we have seen many times with other power supplies, the Serene comes with a single 12V rail. We have written previously that this does not conform to the actual Intel Power Supply Design Guidelines, but as we have seen, readers and manufacturers have a different opinion about this issue. While some say it is no problem at all - there will be enough safety features that will kick in before something bad happens, i.e. overloading the power supply - the other half prefers to stick to the rules and have released power supplies with up to six 12V rails. While the lower voltage rails have each 25A on disposal, the single 12V rail has 40A and should have no difficulty powering everything a decent system needs.
Given the name, one area that will be of particular interest to us is how quiet this power supply manages to run. Granted, delivering a relatively silent power supply that provides 600W is going to be a bit easier than making a "silent" 1000W power supply, but we still need to determine whether or not the Zippy Serene can live up to its name.