Introduction
Alienware is a company whose name is likely familiar to most gaming enthusiasts, often drawing both stares of lust as well as scorn - lust for the performance being offered, but scorn for the typically high price tags. Originally founded in 1996 and headquartered in Florida, Alienware has built their reputation on offering no-holds-barred performance levels, customized and unique looking computers, and of course gray headed creatures with almond shaped eyes. They made headlines in March of last year when they were purchased by Dell, but besides a redesigned web site it doesn't seem like much has changed. While they have grown quite a bit from their humble beginnings, they remain committed to building some of the fastest computers around. For people that don't want to spend the time and effort assembling and tweaking their own PC, companies like Alienware essentially provide a way to buy into the enthusiast level performance market.
A few months ago, Alienware asked us if we would like to take a look at their new top-end laptop, the Area-51 m9750. We were naturally interested to see what they might be able to offer, and we spent the past several weeks putting the laptop through its paces. Make no mistake: this laptop is blazing fast! It's also pretty large, and portability rather than mobility seems to be the focus. The base level m9750 starts out at around $2100, but purchasing an entry level Alienware m9750 would be a lot like picking up a sports car but only getting a four-cylinder engine, four speed automatic transmission, and basic Goodyear tires. Since we're enthusiasts at heart, we wanted a little bit extra and Alienware obliged.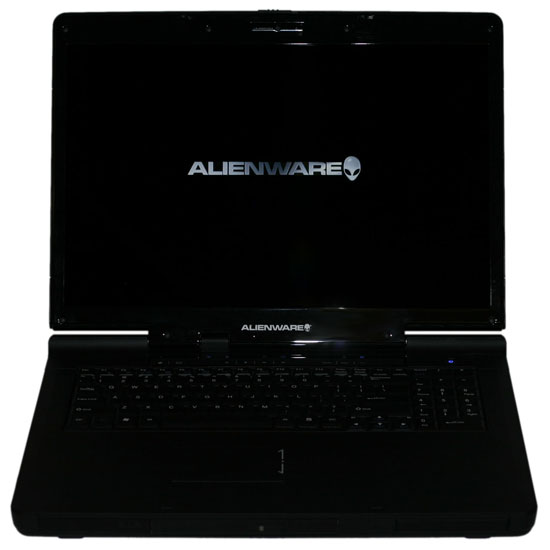 Flash back with us for a moment to one year ago, and imagine putting together a high-end gaming desktop computer. Core 2 Duo wasn't on the market yet, so you would have been looking at an Athlon X2 AM2 setup. As most gamers know, of course, graphics processing power is generally far more important to frame rates than getting the fastest CPU on the planet. GeForce 8800 cards weren't an option yet either, so your choices for top-end graphics consisted of two NVIDIA 7900 GTX cards running in SLI or a couple of ATI's X1950 XTX cards running in CrossFire, with an appropriate motherboard depending on your choice. Put in a couple Gigabytes of RAM, two hard drives in RAID 0, and a few other accessories and you're pretty much done. Pick up a basic display, speakers, and input devices and you'd probably be looking at spending somewhere in the vicinity of $3000 - though you could easily spend more - for such a computer. Fast forward to today, and while a few things have changed you can now get essentially the same type of system in laptop form.
Of course that's not the whole story. While it's more or less true that last year's top-end desktop hardware is now available in laptops, the price is quite a bit higher. You also miss out on some of the newest technologies that have become available - one year ago we were on the cusp of several technology updates. Quad core processors? Sorry, Intel doesn't offer those yet in their mobile line. DirectX 10 graphics? Sure, you can find laptops that have DirectX 10 hardware, but you're not going to find any 8800 GTS/GTX or HD 2900 XT GPUs in any laptops just yet. 10,000 RPM hard drives and 1TB storage capacities are also missing. So not only do you have to deal with a higher price than a comparable desktop system, but you're also giving up one year's worth of technological advances. Still, some people are willing to make such sacrifices.
The system we were sent for review sells for approximately $5,000, and that's going to be a pretty major hurdle for most people to get over. That's especially true when you consider that you can get a very good notebook for about $2000 and spend another $3000 on a quad core, DirectX 10 desktop system. You'd still have to figure out a way to carry around a large desktop if you want to get gaming performance on the go, but otherwise we would have to say that purchasing a separate desktop and laptop setup makes more sense for the majority of people with $5000 to spend on computers. If you're still willing to live on the bleeding edge of desktop replacement notebooks, though, read on as we take the Alienware Area-51 m9750 for a test ride.