There have been several coolers that have topped our air cooling benchmarks in recent months, and all of the best coolers have several things in common. The best are all based on heatpipe tower designs, they all feature side-blowing 120mm fans (and sometimes two 120mm fans in a push-pull configuration), and they are all relatively heavy and huge. It certainly appears that if you needed to dissipate more than 150W from your overclocked CPU that you clearly need a big and heavy cooler.
It has always been interesting to note that Thermalright competes exceptionally well using a slightly smaller cooler - just as wide but not nearly so deep as others. This reached the height of efficiency in the top-performing Thermalright Ultra-120 eXtreme, which is our current performance leader. The eXtreme is the same size as the very competitive Ultra-120, but it manages better performance with the careful design and placement of six heatpipes in the same Ultra-120 design.
We were reminded of this again in our last review of the smaller ZEROtherm BTF90, which uses a smaller 92mm fan and is selling for a lower price than the best. The BTF90 competes very well with the top coolers with very low noise. It isn't the most effective at cooling in our competition, but it's certainly a good choice without too much compromise in performance at the top.
Apparently Thermalright has been thinking in the same vein. We recently received a shipment from Asia containing a new Thermalright model, which they call the Ultima-90. The design is very similar to other Thermalright heatpipe towers, only as you might expect it comes in a slightly smaller package.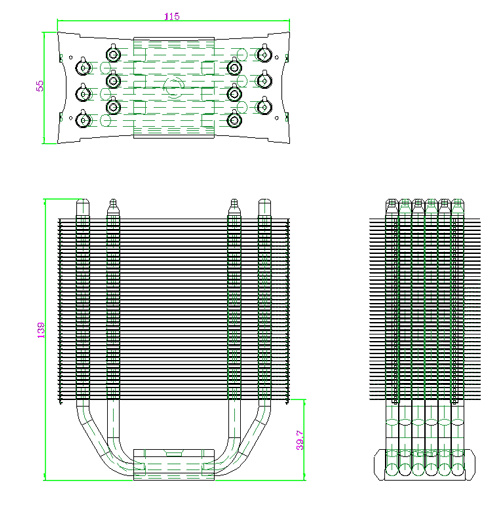 At first glance you may mistake the Ultima-90 for the current Ultra-90, which comes in both 775 and AMD versions. If you look closely, however, you will see that the Ultima-90 has six heatpipes instead of the four seen in the Ultra-90 design. Thermalright calls the design six heatpipes since it is six fully looped heatpipes. Other makers might refer to this as a 12-pipe design, since there are 12 riser pipes.
We shrugged our shoulders when we first saw the Ultima-90, since we assumed the size reduction would drop the Ultima-90 to another performance category. Thermalright then told us that in their testing the Ultima-90 could outperform many full-size 120mm heatpipe towers. That certainly piqued our interest. There is also the fan factor, since the high-end Thermalrights do not ship with a fan. The Ultima-90 provides two sets of fan clips.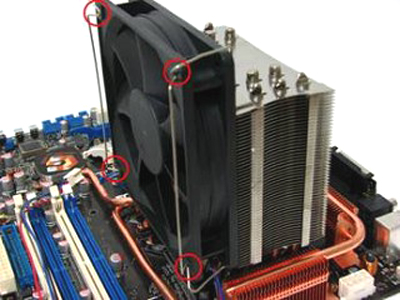 One will mount 120mm fans on the small Ultima-90.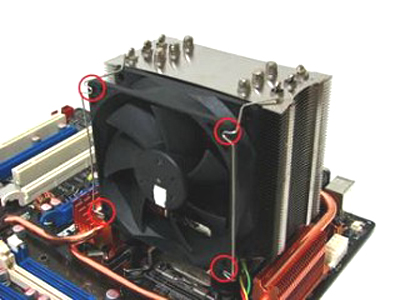 A second set of clips mounts a standard 92mm fan.
Since the Ultima-90 carries the same heatpipe setup as the top-performing Ultra-120 eXtreme and mounts 92mm and 120mm fans, our test configuration needs to look at the Ultima-92 with both a 120mm fan and a 92mm fan. How does the smaller and cheaper ($49.95 retail) Ultima-90 compete with the top guns in these two configurations?