Power Consumption: A Cooler SLACR?
We know from Intel's own documentation that G0 cores draw less power at idle than their B3 predecessors. In the C1E power state the G0 Q6600 is supposed to dissipate 24W compared to 50W of its B3 predecessor. On paper the savings are dramatic, but keep in mind that a processor doesn't spend all of its time in C1E - so how does G0 stack up in the real world?
In order to find out we looked at total system power consumption in two situations: idle and when running our Windows Media Encoder 9 test, a fairly CPU intensive benchmark. We measured average power consumption over the course of the test.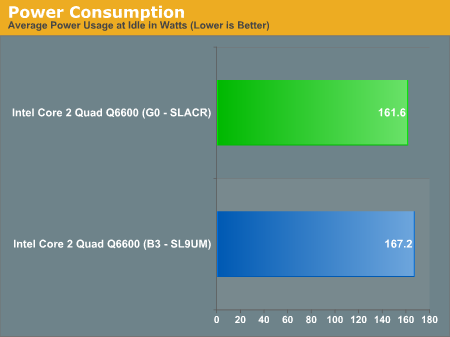 At idle, G0 draws 5.6 fewer watts, a reduction of just over 3%. Nothing terribly impressive, but let's look at results under load: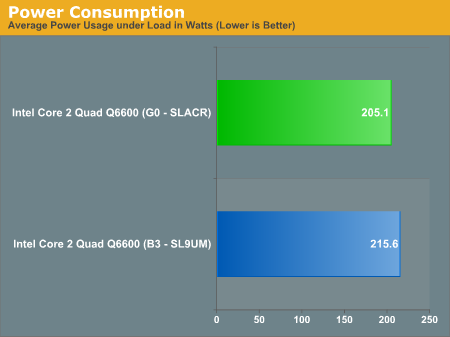 The G0 advantage grows to 10.5W under load, or an advantage of just under 5%. This alone isn't reason to upgrade, but lower power consumption is far from a bad thing. Does the new G0 stepping translate into better overclocking potential given its lower power consumption?