Since the success of Zalman as a cooling company based in Korea, there have been many other Korean companies who have aimed for a slice of the cooling pie. One such company is
ZEROtherm
, who manufactures in Korea and is basically a marketing division of a company called APACK, which is targeted more at the OEM market.
APACK was established in 1999 by three Engineers from ETRI (Electrics and Telecommunications Research Institute) who had extensive experience in thermal solutions and advanced packaging design (packaging meaning integration of multiple technologies). Based in the city of Daejeon (in the Korean Silicon Valley), APACK is still mainly an Engineering company.
Phase one of APACK's growth was producing OEM solutions for companies like Samsung, Dell, and LG. ZEROtherm is part of phase two, which is direct marketing of APACK thermal solutions. ZEROtherm products today include five CPU coolers and four very unusual VGA coolers.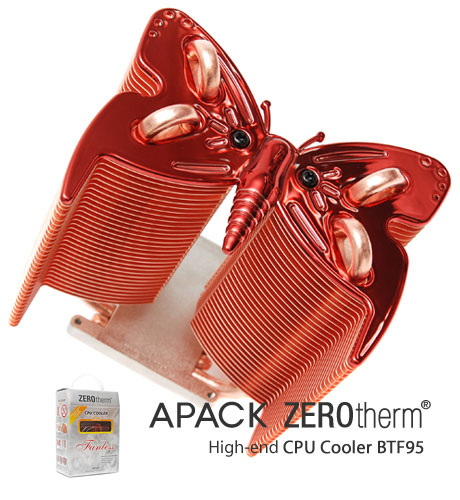 The BTF series currently consists of three coolers that are essentially the same size. All the coolers use fins that are shaped like butterfly wings and ZEROtherm even adds antennae and butterfly bodies to play up the design. The BTF95 is a fanless all copper butterfly, while the BFT90 and BTF80 are the same butterfly in copper and aluminum fin respectively. The 90 and 80 add active cooling with a drop-in Maglev (Magnetic Levitation) fan that ZEROtherm has chosen for silence.
A question for many is which came first - the design or the butterfly. It appears from the info at the ZEROtherm website that the company set out to create a butterfly shape. You would think in an engineering company that performance would have been the first criteria, but it appears ZEROtherm decided to develop a unique butterfly design with cooling performance being a secondary consideration.
The company certainly succeeded in a cooler design that looks like a butterfly, though we confess we cannot figure out the charm of a cooler looking like a butterfly has landed on your CPU. On the other hand, if the butterfly is used to signify silence we can appreciate where this is going, and it is clear in APACK literature that silence was the largest of the performance design goals.
Our test suite heavily emphasizes overclocking performance. While we do measure noise, our test design is based on the premise that if an expensive cooler doesn't outperform the stock Intel retail HSF there is no reason to market the cooler. Beyond the Intel heatsink performance range, those air coolers that cool the highest overclocks do best in our tests. While we report noise levels it is not the main criteria in our testing - it is just additional info to help buyers decide what to get.
We will try to pay a bit more attention to noise in reviewing the Butterfly. Does the BTF90 perform well compared to other top air coolers? Does ZEROtherm reach their goal of relative silence when compared to other coolers? And most important, does the ZEROtherm BTF90 deliver good value considering the price you will pay?