MySQL Configuration
To get an idea what a typical SLES 10 user will experience, we simply used the MySQL version which is supported by the latest SLES 10 SP1, i.e. MySQL 5.0.26. Unfortunately, this means that we see the typically bad scaling. Therefore we focus on the single CPU, dual core results. It doesn't make sense to use a quad Xeon 5345 here: more than two CPUs give negative scaling as we have reported before. The 2.33GHz Xeon 5345 scored between 700 and 750 queries per second as a result of this. For those who are surprised by this: notice that Intel's own benchmarks use four parallel runs of the Sysbench MySQL benchmark to get higher scores out of MySQL. All testing was done with InnoDB as our storage engine in MySQL 5.0.26. Here is our MySQL configuration:
MySQL Configuration
default-storage-engine
InnoDB
skip-external-locking
skip-locking
key_buffer
256M
.
table_cache
64
max_allowed_packet
1M
thread_stack
128K
.
sort_buffer_size
2M
read_buffer_size
2M
innodb_buffer_pool_size
1G
.
thread_concurrency
16
innodb_thread_concurrency
16
innodb_additional_mem_pool_size
8MB
read_rnd_buffer_size
8MB
thread_cache
64
max_heap_table
256MB
tmp_table
128MB
.
innodb_log_file_size
250MB
innodb_table_locks
0
innodb_flush_log_at_trx_commit
0
max_user_connections
2000
max_connections
2000
The "query cache" was off, as we wanted to test worst case performance. Our test database is still the same 1GB database. The workload consists of more than 90% selects, mostly a "read intensive" workload. All numbers are expressed in queries per second (Y-axis), and the X-axis shows the number of concurrent accesses.
MySQL results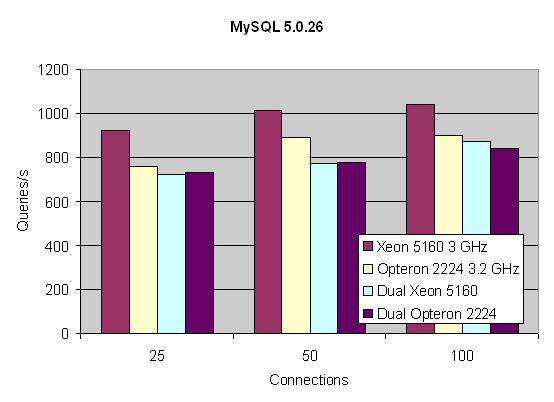 The Xeon 5160 keeps a 10-14% lead on the Opteron 2224. Our time was limited, and you'll see other versions of MySQL pop up in later reviews. The first results seem to indicate that the difference between the Opteron and Xeon gets smaller.