Overclocking
We were more than surprised when Super Talent DDR3-1600 topped our overclock charts at DDR3-2008 in our last DDR3 memory review. The OCZ DDR3-1800 is based on a different binning of the same Micron Z9 memory chips, and it achieved an even faster overclock at a stable DDR3-2040.
Perhaps even more significant were the timings that could be achieved at DDR3-2040. OCZ rates this memory at 8-8-8-27 timings at DDR3-1800. At 2040 the timings of 8-8-8-21 provided stable performance with 2.1V. This compares to the Super Talent, which is also based on Micron Z9, which required slightly slower 9-8-7-18 timings at 2.25V to achieve a stable DDR3-2008. The slightly better timings with the OCZ memory suggests that OCZ is using more aggressive speed binning for their new DDR3-1800 parts than others are using for their DDR3-1600 parts.
Advances in memory technology are rarely as dramatic as the speed and timing improvements we are seeing recently with Micron Z9 memory chips. For reference we included our ongoing overclocking chart results for DDR2 just so you can see how significant the new Micron Z9 memory really is. The highest DDR2 we have tested is Corsair memory at 1315 in an EVGA 680i motherboard. Early DDR3-1066 reached a bit higher as in the typical 1370 achieved with the launch Corsair DDR3-1066. Timings, however, were somewhat slow. Then the Kingston HyperX pushed 7-7-7 timings all the way to DDR3-1500. Now, less than 2 months later, state-of-the-art DDR3 is reaching DDR3-2000+ at aggressive timings. This kind of progress in memory technology makes the original JEDEC target of 800 to 1600 for DDR3 speeds appear far too limited.
Some end users consider 7-7-7 timings a benchmark with DDR3. We set those timings and pushed the OCZ as far as possible. The DDR3-1800 reached DDR3-1900 at 7-7-7-timings at 2.1V. This incredible speed at 7-7-7 eclipses previous results at 7-7-7 timings. The OCZ, Super Talent, and TEAM results are close at all comparable speeds, but the OCZ manages slightly better performance, slightly tighter timings, and a higher overclock than the other two Z9-based kits. OCZ is apparently binning to slightly tighter tolerances than the other two memories and that is showing in the performance improvements.
Super Pi
In
Kingston Launches Low-Latency DDR3
memory performance was compared at 800, 1066, 1333, and highest memory speed. With the introduction of higher speed DDR3 we have added 1600 and 2000 to the standard comparison speeds, if the DDR3 memory is capable of reaching that speed.
To look at pure number crunching, Super Pi 1.5 was run in all memory test configurations. Super Pi is a very simple program as it merely calculates the value of Pi to a designated number of decimal positions. In this case we chose 2 million places.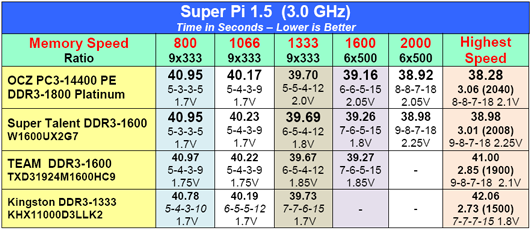 Click to enlarge
Super Pi is fastest (lower value for calc time) on the OCZ DDR3-1800 and Super Talent memory. Both these memories are based on the new Z9 Micron memory chips. At 1333, the Kingston is close behind, but it tops out at around 1500 speed, while the top Z9 memories go on to 2000 speed - shaving another 1.4 seconds off the Super Pi time at the same CPU speed. Lower latency DDR3 now passes DDR2, on either the P35 or P965 platforms, and extends to new performance levels. Any speed above 1066 is the domain of DDR3 and the higher speed delivers improved performance.
It is interesting that by 1333 the lower latency DDR3 has completely closed any gap that existed with the fastest timing DDR2, which can run as fast as 3-3-3 timings at moderate memory clocks. Lower latency DDR3 clearly demonstrates you will not have to give up a thing with DDR3 in the overlap speeds and you will gain higher speeds as well. The only current roadblock to DDR3 is the high price of admission.