The ATI R7XX
Most of today's announcements were CPU/platform related, however AMD did drop a few nuggets about its 2008 GPU line: the R7xx series.
The R7xx GPU will be built on a 55nm process and it appears that, at least on the high-end, there won't be any UVD support. AMD's roadmaps clearly outline UVD as a part of the mainstream R7xx feature set, but the high end platforms are completely missing the checkbox. We'll find out next year for sure if the lack of UVD and Purevideo HD on high end parts will continue.
We can't say much more about R7xx, other than AMD is quite confident in its abilities despite the lackluster reception of the R600. AMD has its reasons...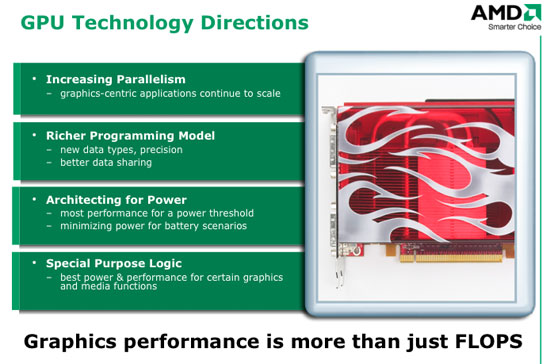 AMD's Bob Drebin (CTO of the Graphics Products Group), reaffirmed the company's commitment to developing faster discrete GPUs, even in a post-Fusion era. Drebin stated that memory bandwidth and processing needs would keep discrete GPUs a part of the market; Fusion CPUs will simply bring more opportunities to the low cost and mainstream markets, while discrete GPUs will continue to flourish in the rest of the market.
What will continue to be the driving factors in discrete GPU development going forward? According to Drebin, memory bandwidth will still need to go up and at the same time, there's no shortage of a need for wider/faster GPUs.