Transporter 2 Trailer (High Bitrate H.264) Performance
This is our heaviest hitting benchmark of the bunch. Nestled into the recesses of the Blu-ray version of The League of Extraordinary Gentlemen (a horrible move if ever there was one) is a very aggressively encoded trailer for Transporter 2. This ~2 minute trailer is encoded with an average bitrate of 40 Mbps. The bitrate actually peaks at nearly 54 Mbps by our observation. This pushes up to the limit of H.264 bitrates allowed on Blu-ray movies, and serves as an excellent test for a decoder's ability to handle the full range of H.264 encoded content we could see on Blu-ray discs.
First up is our high performance CPU test (X6800):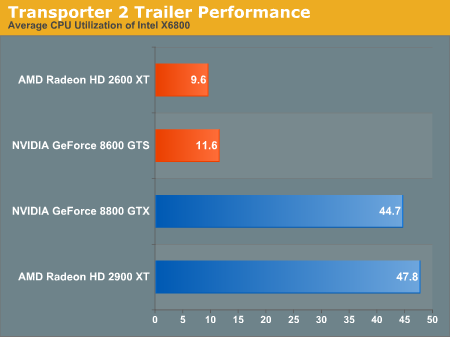 Neither the HD 2900 XT nor the 8800 GTX feature bitstream decoding on any level. They are fairly representative of older generation cards from AMD and NVIDIA (respectively) as we've seen in past articles. Clearly, a lack of bitstream decoding is not a problem for such a high end processor, and because end users generally pair high end processors with high end graphics cards, we shouldn't see any problems.
Lower CPU usage is always better. By using an AMD card with UVD, or an NVIDIA card featuring VP2 hardware (such as the 8600 GTS), we see a significant impact on CPU overhead. While AMD does a better job at offloading the CPU (indicating less driver overhead on the part of AMD), both of these solutions enable users to easily run CPU intensive background tasks while watching HD movies.
Next up is our look at an affordable current generation CPU (E4300):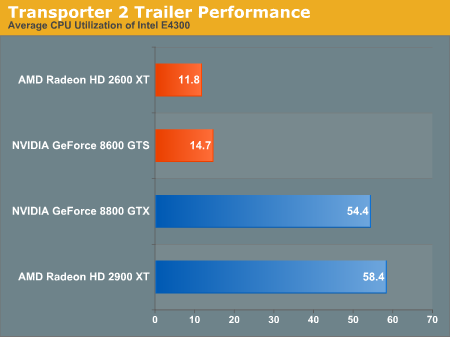 While CPU usage goes up across the board, we still have plenty of power to handle HD decode even without H.264 bitstream decoding on our high end GPUs. The story is a little different when we look at older hardware, specifically our Pentium 4 560 (with Hyper-Threading) processor: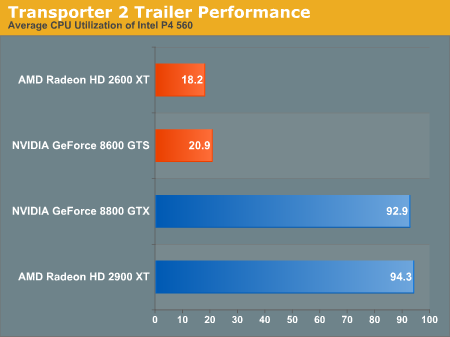 Remember that these are average CPU utilization figures. Neither the AMD nor the NVIDIA high end parts are able to handle decoding in conjunction with the old P4 part. Our NetBurst architecture hardware just does not have what it takes even with heavy assistance from the graphics subsystem and we often hit 100% CPU utilization without one of the GPUs that support bitstream decoding.
Of course, bitstream decoding delivers in a HUGE way here, not only making HD H.264 movies watchable on older CPUs, but even giving us quite a bit of headroom to play with. We wouldn't expect people to pair the high end hardware with these low end CPUs, so there isn't much of a problem with the lack in this area.
Clearly offloading CABAC and CAVLC bitstream processing for H.264 was the right move, as the hardware has a significant impact on the capabilities of the system on the whole. NVIDIA is counting on bitstream processing for VC-1 not really making a difference, and we'll take a look at that in a few pages. First up is another H.264 test case.