Intel's P35 chipset was recently
introduced
amid gala fanfare with "official" support for the upcoming 45nm based Penryn products and the newly arrived
1333MHz FSB based processors
. While the spotlight has been on Intel's latest chipset for the past few weeks, we kept hearing whispers from the guys in green wondering what all the fuss was about. After all, they told us bluntly, we have a
chipset
that has been in the market for almost nine months now that fully supports the same features that everyone got excited about when the blue team rolled into Computex 2007 with sirens blazing.
True enough, NVIDIA has always discussed these capabilities with us and in fact they hold true for the entire 600i series of chipsets. However, even after getting our arms twisted a little and noticing the whispers becoming increasingly louder, who would blame us for still being a little skeptical about "official" 1333FSB support. After all, there was a lot of hype, fanfare, and a great deal of media coverage that surrounded the launch of the NVIDIA 600i family of chipsets last November. Since that time users have experienced a number of maladies with these chipsets that ranged from crackling audio with SLI, data corruption, degraded RAID arrays, USB keyboard compatibility problems, and poor quad core overclocking just to name a few that we have experienced first hand.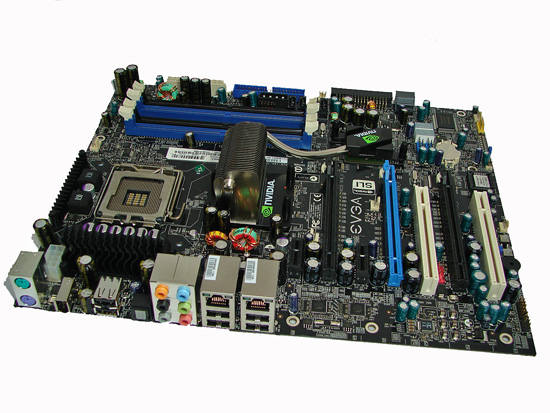 Several BIOS releases later, new board designs, and even a few component changes, it seems as if the majority (not all) of these problems and others have finally been solved. To be fair, the Intel P965 was also plagued with a like number of problems upon launch that have since been solved - well, most of them. So, it was with great interest after receiving our first 1333MHz FSB processors that we set out to see if the 600i series of chipsets lived up to NVIDIA's claims about "official" 1333FSB support. We already knew they fully supported 1333FSB rates and beyond, but how they would act with a native 1333FSB processor was the wild card in our tests.
We lined up several 600i motherboards on the test bench, popped our QX6850 in each one, flipped the switch, and then took several deep breaths as board after board failed to run properly. A couple of boards would not even POST, a few worked fine, and some would boot into Vista and then act strange - not Britney Spears strange mind you; more like Paris Hilton behind bars. You just knew that QX6850 wanted to escape its confines and party all night long, but instead it was limited to a few whimpers and constant pleas for help from its socket induced hell.
We thought about hiring a team of psychologists and maybe a good lawyer to help our performance challenged CPU out of this mess, but then realized all we needed was a P35 board. Alright, that was probably uncalled for and we should have saved any zingers for discussions about the complete lack of Vista driver updates for our 680i platform since February. As it turns out the only assistance required to set this processor free was BIOS updates from the respective manufacturers for our group of 600i based motherboards. Those BIOS updates have been coming in hot and heavy over the past two weeks and we are glad to say that every 600i board in the lab is now running correctly, and a couple are even impressing us in early test results.
We wanted to bring you a full roundup and comparison against the best that Intel has to offer but most of our BIOS releases are still in beta testing so that will have to wait. We have discovered very few problems at this time, which is a testament to the maturity of these platforms. While our test subjects are still busily running the new benchmark suite, we thought it would be a perfect time to provide an early look at the performance of the 680i chipset and the QX6850 before our efforts switch to the budget sector. We chose the QX6850 as the majority of overclocking issues with the 680i boards have centered on quad core processors in the past, although these issues appear to be solved to a certain degree.
Overclocking is never guaranteed but when you purchase a 680i board that is advertised as being "designed for the gamer and serious enthusiast" with extreme overclocking in mind, this would lead one to believe overclocking will not be a problem. Our article today will provide a glimpse as to how well our
EVGA
680i SLI motherboard officially handles a 1333MHz FSB quad core and overclocking along with general performance results.