The Rise of Thin Clients, Cont'd
To verify these claims, we'll skip the woolly language and instead we'll check out the hardware specs, starting with the thin client.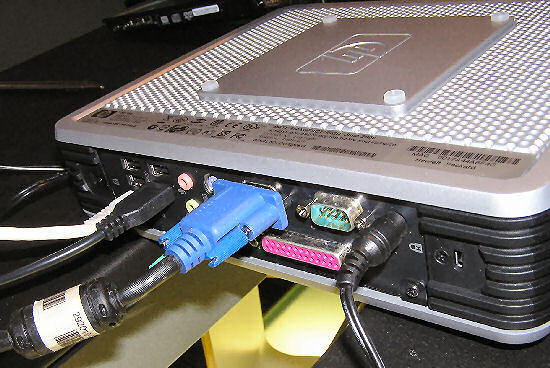 HP's t5720 thin client
6W AMD Geode NX 1500 1 GHz
256 or 512MB DDR SDRAM (16MB UMA video)
SiS741GX integrated UMA video 16MB
4 USB ports (rear)
0.5 or 1GB Flash drive
The Geode NX processor can be considered a low power version of the 3-way superscalar Athlon "Thunderbird" architecture. Just like the Thunderbird, it has a total of 384 KB of cache (128 KB L1 + 256 KB). The Geode should be more than powerful enough to display the RDP information (about 30 Kbit/s) it gets from the blade PC. The SiS741GX is a very humble 3D graphics card (low end GeForce 3 performance) but that doesn't matter as it only has to display 2D graphics. It takes away 16MB of "central" DDR RAM and is capable of displaying a resolution of 2048x1536, which is quite important as this thin client can also be used as a thin workstation (see further). The Thin client has two USB connections inside, which enable you to add a wireless USB key and if necessary 2GB of USB storage space.
Note that the thin client has absolutely no moving parts: no fans, and no hard disk. The 1GB flash drive is loaded with Windows XP Embedded (XPe), a Windows XP with a much smaller footprint but with full Win32API support. The client is thus compatible with all Windows XP applications. Windows XPe can work in about 40-64MB of RAM.