Affordable Quad Core: AMD Athlon 64 FX-74 vs. Intel Core 2 Quad Q6700
AMD doesn't have any quad-core CPUs on the market today, but you can get four cores in a single motherboard by going with a Quad FX platform. AMD's attempt at building a enthusiast class dual socket, dual core platform is far from the most elegant solution in the world, but it does provide an interesting upgrade path. The Quad FX platform uses Socket-1207 CPUs and will be able to be upgraded to dual quad-core chips when they are available, giving you eight cores on a desktop motherboard. Intel has a similar offering called V8, but the AMD Quad FX platform uses standard desktop DDR2 memory which makes it infinitely more attractive.
The problem with Quad FX is that the motherboard is expensive, the whole platform consumes a great deal of power, and you can just as easily get a single socket, quad-core solution from Intel for less money. We haven't revisited Quad FX vs. Quad-Core since AMD introduced the platform, and since then there have been some price cuts on both sides of the fence. AMD now sells two Socket-1207 Athlon 64 FX-74 processors (3.0GHz) at $599 for the pair, making it quite cost competitive with Intel's Core 2 Quad Q6700 ($530).
If we forget about the added cost of a Quad FX motherboard for the moment, how do the two similarly priced processors stack up? The chart below shows the performance advantage/disadvantage the Q6700 holds compared to the FX-74: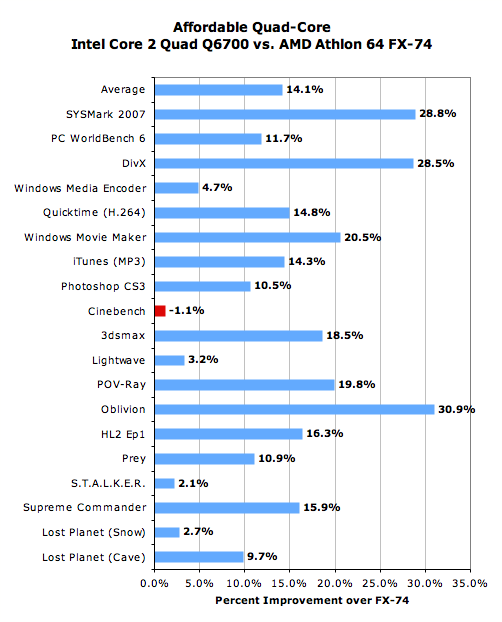 That's not very pretty for AMD. The Athlon 64 FX-74 ends up being 1.1% faster in Cinebench but on average, the Q6700 is 14.1% faster than the more expensive Quad FX platform. The only benefit you get with Quad FX is the ability to eventually upgrade it to eight cores, but in our opinion for the majority of users the upgrade path is simply not enough to justify the means to get there.
Taking advantage of four cores on the desktop is tough enough today, and if you really need 8 cores today buying a platform that will support it in the future isn't going to help make your applications faster now. The market for Quad FX continues to be limited and our original recommendation from the first Quad FX review stands: you're better off with Intel's quad-core.