Secondary Side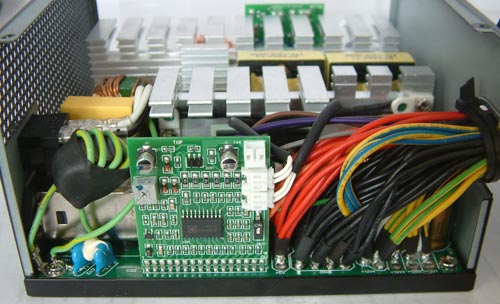 The secondary side has its own printed circuit board just as the primary side does. The board contains the protection features (including OCP, OPP, SCP, and UVP) and the fan control. The fan control is connected to two temperature sensing diodes which have been attached to the secondary heatsink (the hotter heatsink while running). They are attached on the right and left side and interact with each other to control the speed of the fan. The upper connector on the PCB is the output to the fan on the upper side of the power supply. The output is controlled through a potentiometer.
On the lower right edge of the PCB we found a small switch. This switch is actually to turn off the OCP on each of the four 12v rails to "combine" them into a single one. This is a very common method as most other manufacturers approach rail separation the exact same way. Normally separated 12v rails can be generated with just these separated OCPs on each rail. They have one or two 12v rails and just split them into a few more in order to show a higher number of 12v rails.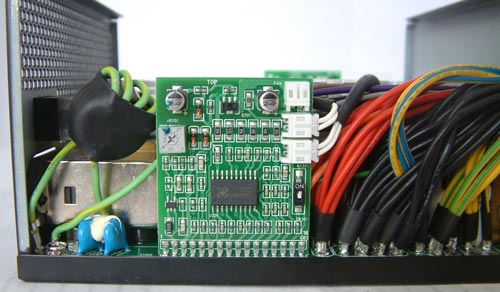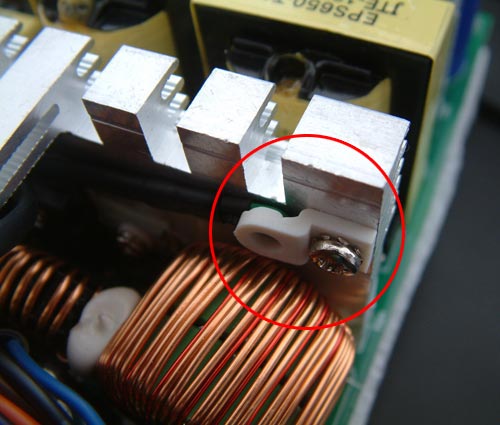 All the capacitors on the secondary side are from Taepo. The company is quite popular and used by many other manufacturers as well. The cables are nicely connected to the PCB and all of the cables have shrinking hoses in the end, how it should to be for certain security matters. The coils have a very good winding quality like all the others in this PSU as well. It would have been nice if Silverstone had started the sleeves of the cables inside of the PSU. This raises the overall quality and importantly for most users it looks better.