The Real Shocker: Impact of 3G on Talk Time
The impact of WCDMA vs. EDGE on talk time battery life is important, because while simply talking you get absolutely no benefit from faster download rates while power consumption increases. There is one side benefit from being on a 3G connection vs. EDGE - you can receive phone calls while maintaining a data transfer, which simply isn't possible on either of these two devices over EDGE.
The Samsung Blackjack, by default, will attempt to connect to a WCDMA network first.  If no UMTS networks are available, only then will it default to EDGE, and likewise if no EDGE networks are available then it will fall back to regular GSM.  You can change the behavior of the Blackjack, especially when it comes to how to prioritize the various networks, but ideally the user would never have to bother with any of that. 
The iPhone doesn't really have an option here, the voice connection took place over AT&T's EDGE network.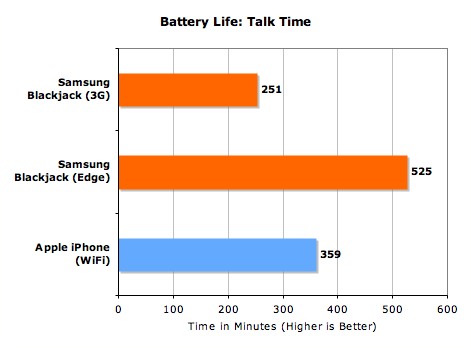 The most shocking results come from the Blackjack and the impact of leaving 3G enabled on talk time: battery life is cut in half.  The 52% reduction in talk time takes the Blackjack from lasting almost 9 hours to slightly over 4 hours.  If the iPhone would be impacted similarly, a 3G version of the current phone would result in less than 3 hours of talk time.