ICY DOCK Specifications
ICY DOCK MB559US-1SMB Specifications
Host Interface
eSATA + USB 2.0 Combination
Drive Type
3.5" SATA 1.5Gb/s or 3Gb/s Interface
Drive Position
Vertical or Horizontal
Transfer Rates
Up to 3Gb/s per eSATA specs
Up to 480Mb/s per USB 2.0 specs
Connection Type
SATA
Structure Type
Aluminum Body with Plastic Trim
Drive Cooling
Passive via Aluminum frame heat dispersion with ventilation ports
Activity Indicators
Device Power and Drive Activity via LED
OS Support
Windows 98/SE/ME/2000/XP/Vista, Mac OS 9.0 or higher
Power Draw
2W
Dimensions (LxWxH)
194 x 142.6 x 42.6 mm
Weight
1.10 lbs.
The ICY DOCK MB559US-1SMB provides full support for current eSATA and USB 2.0 specifications along with a case design that features horizontal or vertical positioning. If your system does not natively provide eSATA connections, no worry as ICY DOCK provides an adapter bracket that converts an internal SATA header into an eSATA header that is mounted in an open slot. A USB 2.0 connection is also included for those systems that do not support eSATA or for people on the go who can use this almost universal interface.
ICY DOCK Feature Set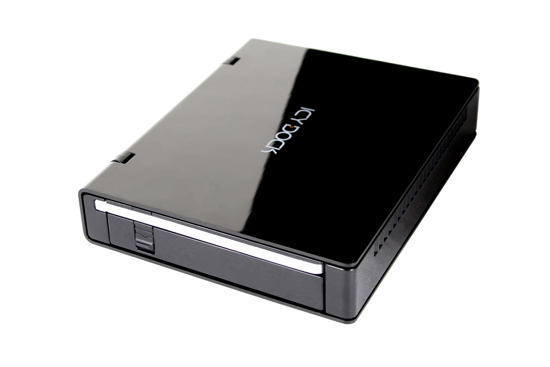 The MB559US features two different color schemes at this time. Not pictured is a brushed silver design with off-white plastic trim that would remind one of the latest Apple designs. Our review sample is the recently released glossy piano black design that looks stunning. Well, at least until it spent a few days in the lab being handled several dozen times and ended up looking like a finger print collection unit. A buffing cloth and a small dab of auto polish brought the unit's glossy black shine back in no time.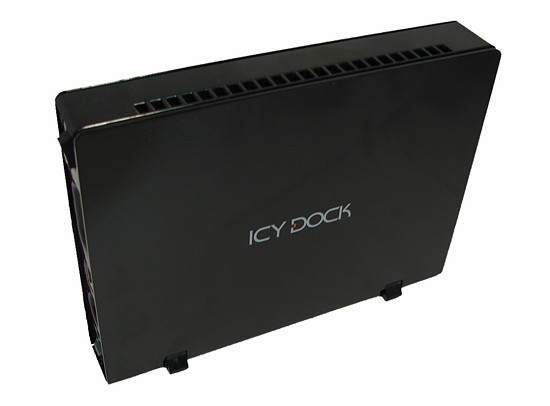 The MB559US enclosure does not include a cooling fan and instead relies on a combination of convection cooling and chassis conduction to cool the enclosed hard drive. It can be positioned either horizontally or vertically, but we found the vertical position to offer less noise, vibration, and heat.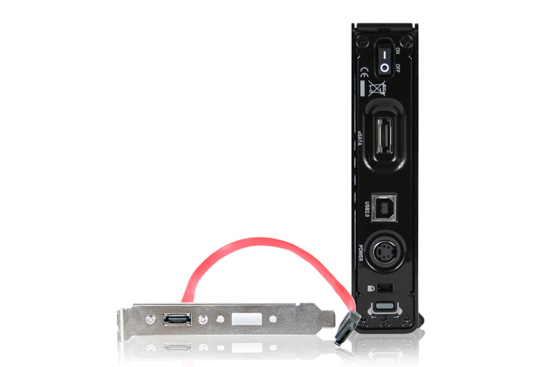 The connections on the back panel are common for this type of enclosure: a power plug that attaches to the external power brick, USB 2.0 and eSATA connections, a button to release the four plastic feet for vertical operation, and a power switch. Interestingly enough, the power switch refused to operate when both of the USB and eSATA connections were filled.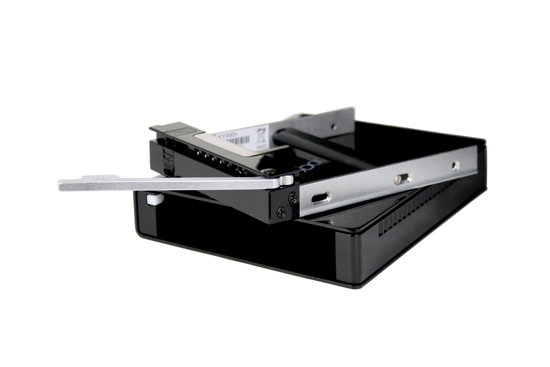 The process of removing the drive the caddy is straightforward. One press of the front button is all that is needed to release the drive, which then slides out easily. Reinserting the drive is just as simple with the only caveat being the lever should be fully extended before pushing the caddy back into place. Once this is done then you close and lock the lever arm.
ICY DOCK has made it easy to swap drives as the caddy utilized is compatible with other enclosures manufactured by them. Besides making the swappable drive process very easy, it also simplifies drive installation since it can be installed in a caddy ahead of time before going in the enclosure. Additional caddy units are available for sale and range in price from around $16 for the silver/white unit to $19 for the black unit.

A quick look at the inside of the unit reveals a spartan PCB layout containing the controller chipset along with the standard SATA data and power connectors.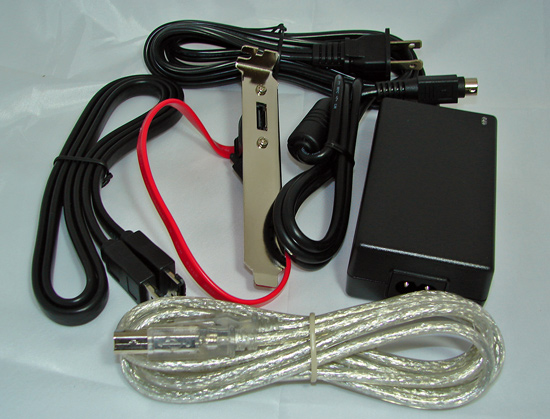 The accessory kit has everything you need to attach the unit to a system with an eSATA or high-speed USB 2.0 port. If your motherboard does not have an eSATA port, you can use the included bracket for attachment to the motherboard's SATA connector. We did not notice any performance or compatibility issues utilizing this method with our test system.
However, if your motherboard's controller chipset does not fully support the eSATA protocol there might be issues using the SATA to eSATA bracket. If this is the case, there might be data corruption if the error correction algorithms do not properly address the communication signal synchronization between the two standards. We have also seen on older controllers like the Intel ICH6 or early VIA chipsets without eSATA support that enabling write-back caching for the drive within Windows will cause data corruption or a locked drive.