Introduction
For whatever reason, the majority of the laptops we get sent for review tend to be larger Desktop Replacement (DTR) models. While there is nothing inherently wrong with such a laptop, there are many people out there that are far more interested in portability and mobility. We have looked at 14", 15.4", and 17" notebooks in the recent past, but it's been some time since we last looked at anything that could truly be called "thin and light". Gateway answered our request for such a laptop by sending us their E-155-C, which also holds the distinction of being the first convertible laptop/tablet PC that we've had the opportunity to review.
The component selection for the E-155-C is clearly targeted at the thin-and-light crowd, focusing on lower power requirements rather than raw performance. The question of course is whether it still packs enough power to run all the day-to-day tasks that people use. Like most new laptops, Windows Vista is also an option for the E-155-C, which will certainly increase the demand on system resources. Windows XP Tablet Edition can also be selected in the online configurator, but we opted to test with Windows Vista. Not everyone is going to want to run Windows Vista, but we felt it was important to see how the laptop manages to run the new operating system; Windows XP certainly won't be any slower than Windows Vista. It's also worth nothing that all versions of Windows Vista now support tablet PCs - you don't need a special Tablet Edition any more.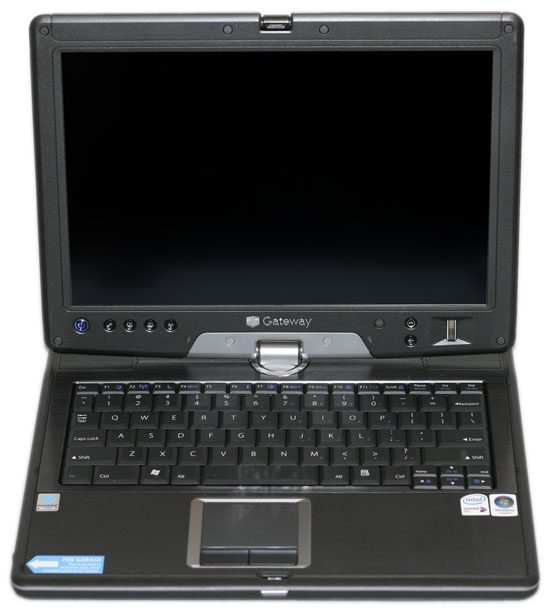 Given the components used, there is little doubt that the E-155-C will at best struggle to run any serious 3D games or computationally intensive applications. As we stated in our recent review of the
HP dv6500t
, however, for many users that will not be a concern. The GMA 950 integrated graphics are capable of running the Vista Aero Glass interface, and that's about as far as the targeted users are likely to push the graphics in this type of notebook. One of the unfortunate drawbacks of the thin and light segment is that besides packing less powerful components, prices also tend to be higher because you're paying for the diminutive size. The test unit we were sent currently retails for about $2000, and even the base 1GB configurations runs $1800 or more, so you're basically paying for the tablet PC interface and a lighter notebook while sacrificing performance.
Can the Gateway E-155-C satisfy the target market, or will they be left wanting? Let's take a closer look.