Battery Life
Using the iPhone you already know it's not going to last very long on battery; I didn't have enough time to run the full suite of battery tests, but those that I did run will give you a good idea of what to expect.
The first test is a strict email benchmark. I created a gmail address and signed up to receive all of the latest postings from some of the most popular newsgroups through Google Groups via email. The end result is a mailbox that gets over 5000 messages a day, and a perfect worst case scenario email test.
All three devices were run on the Edge network to be the most balanced, but keep in mind that the Blackjack supports 3G and the iPhone can run over WiFi. Bluetooth was enabled during the test, but remained unpaired with any devices.
The Blackberry Curve was the only device out of the three that could receive emails instantly, and it did so much faster than either the Blackjack or the iPhone. Both the Blackjack and iPhone automatically checked the mailbox at 15 minute intervals, but in actual email download speed the iPhone was clearly faster than the Blackjack.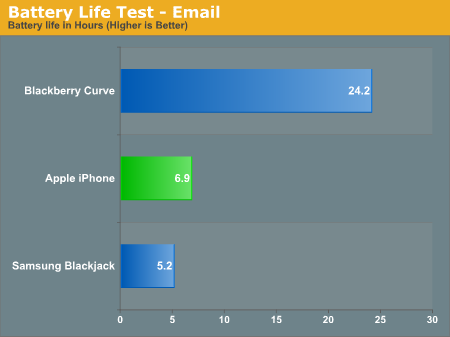 Battery life for email was a clear victory for the Curve, lasting just over a full day doing nothing but checking emails. Keep in mind that all three devices were set to their silent profiles, meaning that the Blackberry was constantly vibrating as it received multiple emails each minute.
The iPhone more than measured up to Apple's own estimated 6 hour battery life during Internet use, lasting 6 hours and 53 minutes. The Blackjack on its standard battery came in last at a bit over 5 hours. From our experience, the extended battery would probably bring the Blackjack up to the iPhone's battery life.
It's important to note that these tests are best case scenario as I'm not walking around town with the phones while testing them, which would be far more stressful on battery life. That being said, the Blackjack and iPhone simply don't cut it for high volume email devices, there's just no replacing the Blackberry. For casual email though, either will work fine.
Our other battery life test is strictly web surfing; we loaded a series of nine web pages stored on a local server and looped the test until the batteries ran down. The screen was left enabled on the Blackjack and iPhone but we couldn't force the Curve to do the same, so its results are slightly inflated by having a screen that went to sleep after the first 30 seconds of use.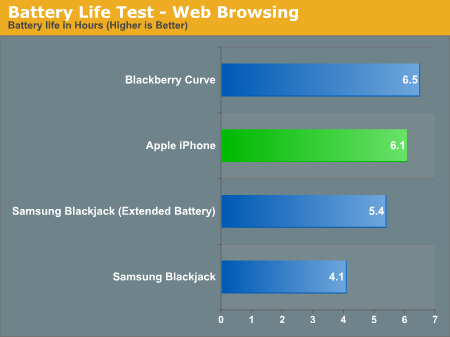 This time on WiFi, the iPhone comes in closer to its estimated 6 hour internet battery life. Again, you're looking at best case scenario battery life; watching a lot of videos on YouTube will run the battery down