An Ode to the Screen
While I was writing this review, Derek Wilson, our resident GPU guru gave me a call to chat about his upcoming DirectX 10 performance piece. Inevitably he snuck in some questions about the iPhone, but the thing he wanted to know the most was "is the screen as good as it looks in the commercials?"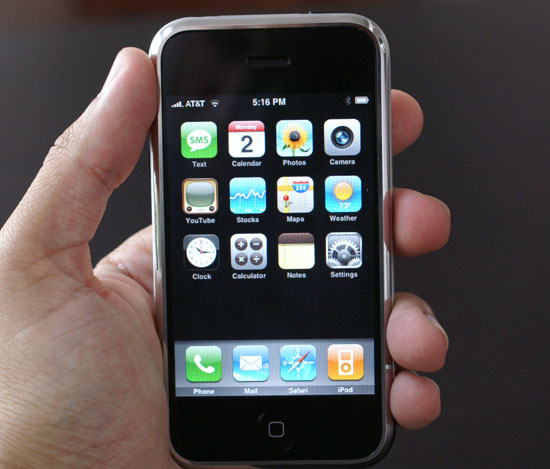 It looks that good
The answer is unequivocally yes. In fact, in taking pictures for this article I had to redo a number of shots because the camera would pick out details in the LCD display that simply weren't visible to the naked eye. Capturing the beauty of the screen is really a tough job, but it really does look just as good in person as it does in Apple's own commercials/videos.
The screen also gets every bit as nasty as you'd expect it to, given that the iPhone works by rubbing your fingers all over it. The unexpected part of it all is that with the backlight on, you can't tell that smudges from three different people are all over the 3.5" screen. The only time you really notice how disgusting the screen has gotten is when the device is asleep, unfortunately it'll take more than just a wipe of the cleaning cloth to get all the grease off of it. Apple recommends turning the unit off and using a slightly damp cloth, while avoiding all harsh cleaners/abrasives.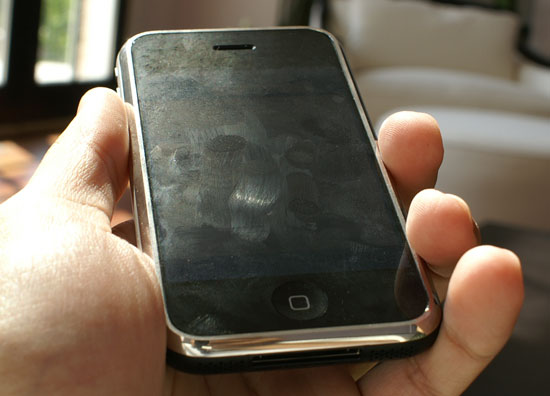 Uh, ew?
At the same time, the device doesn't feel like a fragile jewel, it feels like what a modern day smartphone should feel like. It feels like something straight out of Star Trek. Videos cropped up over the weekend showing all the things you could do to the iPhone without scratching the screen, and honestly when using it you get the impression that you'd really have to try to damage this thing.
By default the iPhone's brightness is adjusted by an ambient light sensor similar to what's in Apple's MacBook Pro line. Indoors the display is absolutely beautiful, but obviously things change once you head outdoors. Outside the display isn't nearly as bad as the Samsung Blackjack, but it gets more difficult to see. Thankfully it's still usable, despite being washed out.