Enzotech Ultra-X
The Ultra-X comes in a matte black and silver package with a side window that highlights the heatpipe cantilever.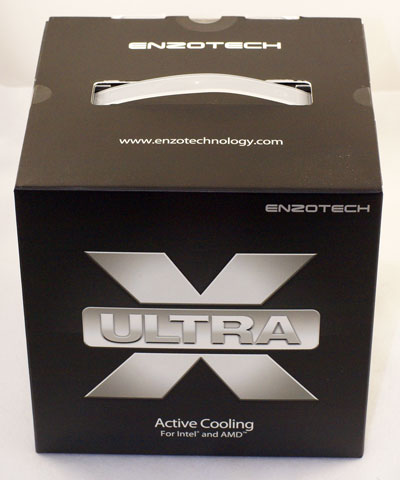 All the information you need to make a buying decision is on the box - specifications, included accessories, CPU compatibility, etc. The only thing missing is a quick trip to AnandTech to check out how the cooler compares to others in cooling efficiency. Inside the package is a clear plastic molded clamshell that protects the individual components.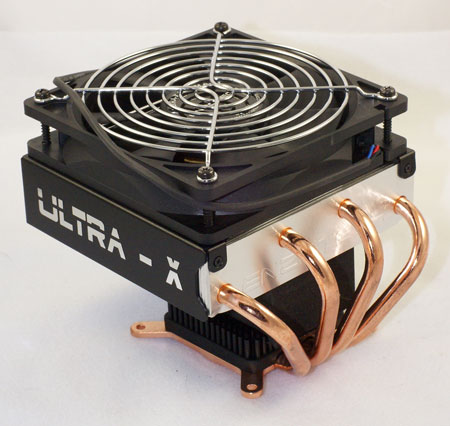 The cooler is designed around a high output down-facing fan blowing across a large cantilever of horizontal heatpipes cooled by vertical aluminum fins. The fin array is enclosed on all sides. Heatpipes extend from a base that is also cooled by another small heatsink to the heatpipe cantilever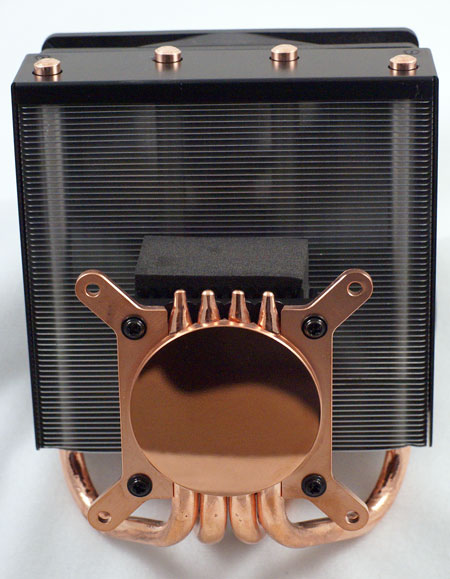 Enzotech prominently features the mirror-finished copper base in all their literature. They claim the base is machined to 0.0003 per inch run out, "which optimizes surface contact and maximizes thermal conductivity performance". The mirror finish is certainly an excellent execution of machining. Our performance tests will better indicate whether it really makes any difference in performance.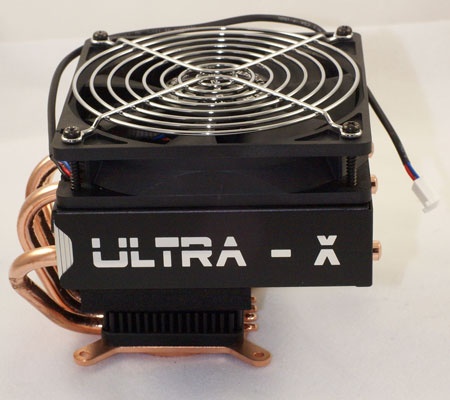 The Ultra-X fan is a stock Delta fan controlled by a variable speed rheostat that can mount in an available card slot. This allows control of the fan speed even if the case is closed. Many of us remember Delta fans from AMD socket A days where the Delta delivered incredible air output at the price of extreme noise. This Delta claims output as high as 82.7 CFM at a less than quiet 38.5dbA. We will be measuring noise performance and reporting it compared to other tested coolers on p. 7.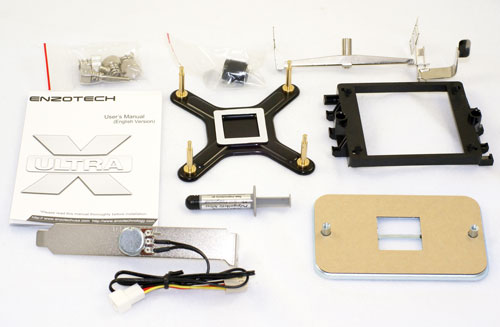 Accessories include a mounting base and spring loaded screws for Intel socket 775 and a complete base, cage and clip for AMD sockets. Mounting of either Intel or AMD processors is very simple. Also included is a small syringe of premium Arctic Silver 5, and very clear installation instructions. Mounting is simple and very secure with either 775 or AMD. However, you will have to remove the motherboard to install the cooler - at least on Intel 775. While the motherboard is removed to place the base through the 4-holes in the 775 motherboard, go ahead and mount the spring screws. It can be really difficult to try to tighten these after the board is remounted.
Should you require further help with the installation process, Enzotech provides very clear installation videos for both Intel and AMD in the
Ultra-X section of their website
. While the Ultra-X is a very heavy cooler at 835g it is good to see strong and effective installation options available with the cooler. Ultra-X was very secure on both 775 and AMD sockets, providing peace of mind when mounting this heavy cooler on an expensive motherboard.
The Enzotech Ultra X is one of the more expensive coolers we have tested. Web prices ranged from $63 to $65. Enzotech distributes their products through specialty cooling shops, so you will not find them at volume resellers. Our sincere thanks go to
Frozen CPU
for arranging a retail review sample of the Ultra-X. We would not have been able to turn a review around so quickly without their help.
Specifications
Our test system is Intel socket 775, but the Ultra-X will also mount on any recent AMD socket as well - including 754/939/940 and AM2. The Enzotech kit includes the back plate, cage, and mounting clip for AMD processors. All the needed hardware is included, and installation is even easier than the 775 install - particularly on a mounted motherboard.
Enzotech Ultra-X Specifications
Heatsink
Dimensions
148(W) X 148(D) X 118(H)mm
Weight
835g
Material
Mirror-Polished Copper Base and Aluminum Fins
Heatpipes
Four 8mm copper heatpipes
Fan
Fan Size
120 x120x 25mm
Bearing Type
2-ball Delta AFB1212H-FOO
Connector
3-pin with integral fan-speed rheostat
Speed
Lo Speed
1,200rpm
Hi Speed
2,500rpm
Noise Level
Lo Speed
24.5dBA
Hi Speed
38.5dBA
Fan Output
Lo Speed
35.8cfm
Hi Speed
82.67cfm
The Ultra-X is relatively large, but it is shorter in height than most of the heatpipe tower coolers. The heatpipe cantilever overhangs the base, so you can also cool a Northbridge or hot power transistors depending on how you mount the cooler. Enzotech did not provide recommended orientations for the cooler for various case designs.
The EVGA 680i is a difficult to fit board due to the copper-finned heatsink and fan cooling the Northbridge. The Enzotech fit comfortably but clearances required mounting the cooler out of the case before mounting the motherboard in the case. Installation was also an easy task on the ASUS Striker and ASUS Commando, and on the two new ASUS P35 boards - the P5K Deluxe and P5K3 Deluxe. The P5K3 Deluxe will likely become a fit test for any motherboard, since the heatpipes completely circle the CPU socket and connect various cooling heatsinks around the CPU socket.