It is not likely that Enzotech will be a name familiar to computer enthusiasts. However, some IT professionals will probably recognize the name as a manufacturer of highly respected cooling solutions for servers. While Enzotech has been manufacturing cooling solutions since 1982, the Ultra-X is their first venture into an air-cooling solution for desktop computers.
Located in Walnut, California, Enzotech continues to manufacture server cooling components. There are even several 1U cooler designs available to the general public that can be seen at the
Enzotech website
. The main items that will likely be of interest to AT readers will be the full line of passive cooling solutions for the Northbridge, VGA card and memory. The subject of this review, the Enzotech Ultra-X, is also generating interest among computer enthusiasts.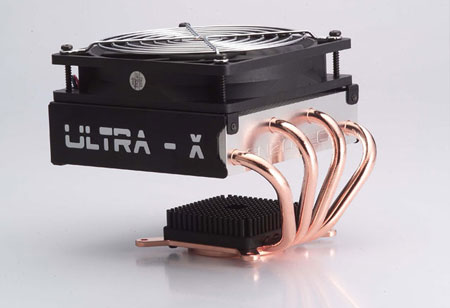 Many readers asked us to take a closer look at the Ultra-X cooler, and it is clear why they have been impressed with the Ultra-X. The cooler is beautifully finished and clearly made with careful attention to quality. Many have also claimed this to be the best performing air cooler on the market.
If indeed this is the best air cooler you can buy the Enzotech would also break a pattern we have seen in recent cooler reviews. The Ultra-X is a down-facing fan heatpipe cantilever. That class of coolers has not performed quite as well as our top heatpipe towers in our cooling tests.
If the Enzotech does top our cooling charts then it will certainly prove the down-facing coolers can perform at top levels. On the other hand, if the Enzotech performs similarly to other down-facers like the Thermaltake Big Typhoon VX, the Scythe Andy Samurai, the Thermaltake MaxOrb, and the Cooler Master GeminII it will simply further the evidence suggesting such designs are not quite as efficient.