Temperature
The ambient temperature around the power supply will constantly grow with the time of the test. It will be placed in the same set of conditions it will experience in a real system, where the temperature rises over time. We will start at a room temperature of 77°F (25°C) and constantly measure the exhaust temperature of the power supply and the installed heatsinks inside the PSU. This will tell us how well the power supply can dissipate the produced heat.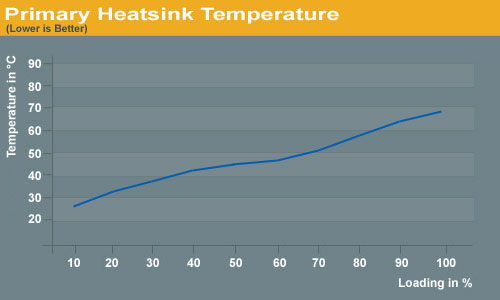 Sample Heatsink Temperature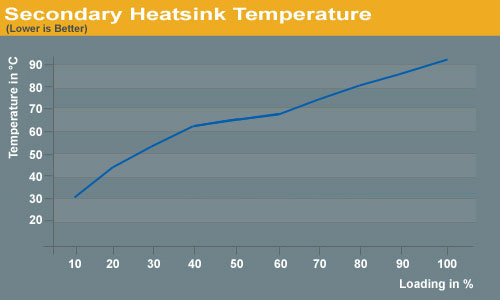 Sample Heatsink Temperature
It is especially true that as the ambient temperature increases it becomes more difficult for the components of the power supply to deliver the rated specifications. A dropping DC voltage is one potential side effect of this. With increasing heat the lifespan of the PSU and its components will drop tremendously as well. When the power supply is working on our test stand for several hours the heat around it will increase up to 122°F (50°C). At that point it will be running at full load under the most strenuous circumstances possible.
We expect many candidates to fail our full load testing since normal power supplies are all rated just at room temperature of 77°F (25°C). We know we will put power supplies in a very difficult position, but those which pass will be truly worth buying. After all, what's the point of spending a lot of money on a high quality power supply if it can't handle rigorous test scenarios?