Memory Performance
Click to enlarge
We optimized each BIOS to provide the best performance at the same memory timings while still being able to complete our entire benchmark test suite. We will fully optimize each board based upon its best performance potential in our upcoming P35 shootout; however, for now we are comparing like timings on all of our boards except the MSI to show differences in the way each manufacturer implements other BIOS enhancements such as ASUS's Transaction Booster and Gigabyte's Turbo memory enhancement. Marketing speak for sure, but we generally see an improvement in unbuffered memory and latency results of up to 7% when they are implemented.
MSI's latest P03 BIOS brings their DDR2 memory performance up to the same level as our other P35 based DDR2 boards. We tried to set the BIOS to match the other DDR2 boards with 4-4-4-10 timings but stability was an issue without manually backing off the timings with MemSet. In the end, we left the memory settings on auto and let the BIOS work its magic with the chipset latencies and sub-timings.
Even though the memory timings are set to 5-5-5-18 we still see a 10% improvement in Sandra unbuffered scores and a 24% reduction in latency when compared to the P1 BIOS. The MSI P35 Platinum also generates the best Q4 scores out of the DDR2 based boards and we will see this pattern continue throughout our testing. The P03 BIOS will be made available later today in our
Motherboard Forum
.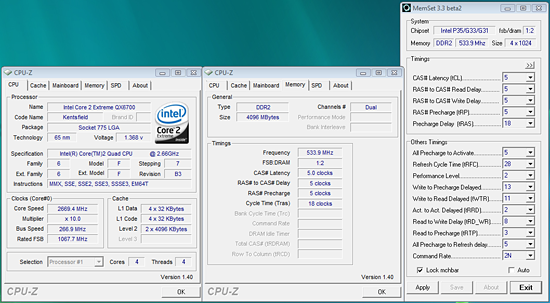 Click to enlarge
MSI in recent times has set up their BIOS for very tight chipset latencies and memory sub-timings at the expense of overclocking. However, MSI balanced the performance on this board with extremely aggressive chipset latencies and memory sub-timings at stock speeds while adjusting these settings or changing straps at key points when overclocking.
We had to let the BIOS adjust our memory timings based on auto SPD selections; stability/performance suffered to varying degrees when manually setting the memory timings. Usually, we spend time tweaking the BIOS to fine tune a board for best performance but in this case auto settings worked best. In fact, the more time we spent trying to tweak the board, the more our performance or stability worsened so we threw in the towel and let the BIOS do the work for us.