The recent
introduction
of Intel's new P35 chipset surprised us to some degree. We reviewed the P35 chipset and the new Intel ICH9 Southbridge in detail and found the combination to offer one of the best, if not the best, performance platforms for Intel's Core 2 family of processors. The surprise was the maturity of the boards and chipset at launch, a complete reversal of the P965 introduction last year.
It has been a few weeks since the P35 was officially introduced at
Computex 2007
and even more since one of the more confusing product launches in recent history for Intel. We noticed several P35 motherboards were available for sale starting in early May before the press embargo lifted in late May. As such, manufacturers including ASUS and Gigabyte got a jump start over the likes of MSI, abit, Foxconn, ECS, and Biostar in getting boards to market. For the enthusiast crowd, this was even more important as ASUS and Gigabyte were able to offer fairly mature and performance oriented boards by the time others came to market with their first offerings.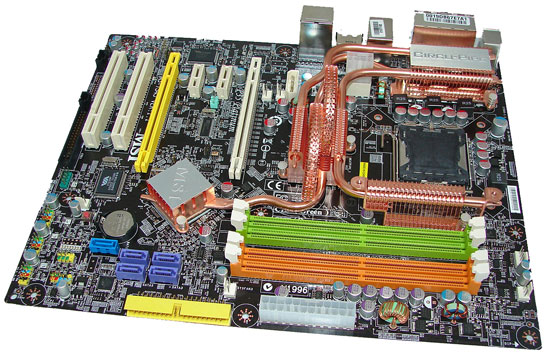 That leads us into today's second look at
MSI's
P35 Platinum motherboard based upon the Intel P35 chipset. This motherboard was launched in late May and our first look at it found a board with a lot of promise but one that was hampered by average memory and overclocking performance - the result of an early BIOS release that emphasized stability over performance. In our initial opinion, the board offered good performance but could not match the ASUS and Gigabyte P35 offerings. In fact, based on performance to price we thought the DFI P965-S offered a better value.
After discussing our results with MSI it was obvious they understood what needed to occur to bring the performance of the board up to the standards set by ASUS and Gigabyte. However, they just had not had enough engineering time with the P35 chipsets and like others had expected the retail launch to happen on June 4th and not the helter-skelter unofficial availability in early May. Still, MSI promised us the performance of this board would improve quickly.
With that promise in mind, we held MSI's feet to the proverbial fire and they responded a couple of weeks ago with the P03 BIOS release. We were excited to see what MSI engineering could do on the performance side with some additional time and our early results show they were at least partially successful. The question is just how successful they were, and did they have to give up stability or overclocking capability for the performance improvements? We hope to provide some early answers that will shed light on these matters today. Let's take a quick second look at the MSI P35 Platinum and see how it performs against the established boards from ASUS and Gigabyte.