Cooling at Stock Speed
Some users will never overclock their CPU, but they still want to run the coolest CPU temperatures possible to enhance stability and extend CPU life. The 3RSystem iCEAGE comes with a high-quality slot-mounted rheostat coupled to a high-output fan. Therefore we tested the iCEAGE with the supplied fan and rheostat.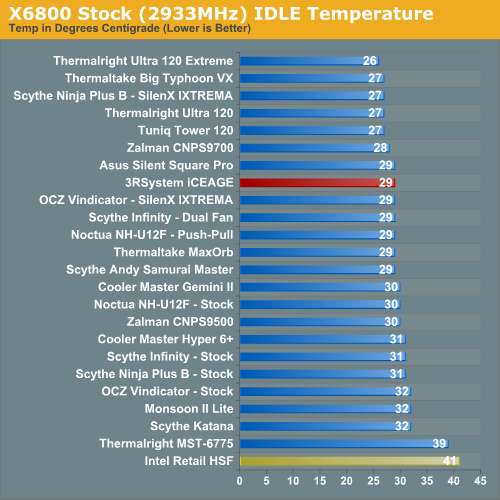 Where the very good Intel stock cooler keeps the X6800 at 41C at idle, the iCEAGE managed 29C, which is among our top performers. This is a significant improvement over the Intel stock cooler performance at 41C, and results are 3C short of the best we have tested. The Thermalright coolers, at the top of our heatpipe tower performance charts, cool to 26C and 27C, and the Tuniq 120 maintains 27C. The iCEAGE is competitive in cooling at stock idle speed.
It is more difficult to effectively simulate a computer being stressed by all of the conditions it might be exposed to in different operating environments. For most home users CPU power is most taxed with contemporary gaming. Therefore our stress test simulates playing a demanding game.
The Far Cry River demo is looped for 30 minutes and the CPU temperature is captured at 4 second intervals with the NVIDIA Monitor "logging" option. The highest temperature during the load test is then reported. Momentary spikes are ignored, as we report a sustained high-level temp that you would expect to find in this recording configuration. This test configuration roughly equates to an 80% CPU load test using Intel TAT.
Cooling efficiency of the 3RSystem iCEAGE is then compared under load conditions at stock speed to the retail HSF and other recently tested CPU coolers.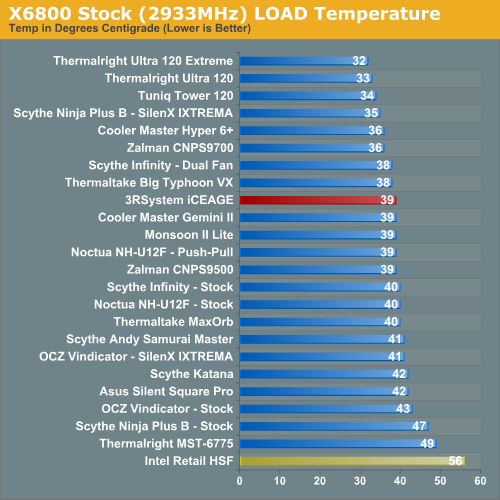 The iCEAGE under load at stock speeds reached a maximum temperature of 39C with the included fan at highest speed. This compares to the Thermalrights at 32C and 33C, the Tuniq at 34C and the Cooler Master Hyper 6+ and Zalman 9700 at 36C. Stock load performance is average at best among tested coolers.
We strongly suspect results with the iCEAGE would have been comparable to the Scythe Infinity had we been able to mount two fans in a push-pull configuration. However, 3RSystems will need to slightly modify the cooling fins to allow the option of two-fan mounting.