Barcelona Clock Speed and Release Schedule
The CPUs themselves work, once again, as we've seen from AMD's own demos. But the real question we've been asking has been "at what clock speed?" The chips we saw at Computex ran at either 1.4GHz or 1.6GHz, the latter being the latest B01 stepping. AMD's Tier-1 server partners are starting to see 1.8GHz chips, but that's the fastest we've heard of at this point. We understand from the motherboard partners that AMD should hit 2.0GHz by September for the Barcelona launch, but according to AMD the partners will see at least 2.3GHz by the end of summer.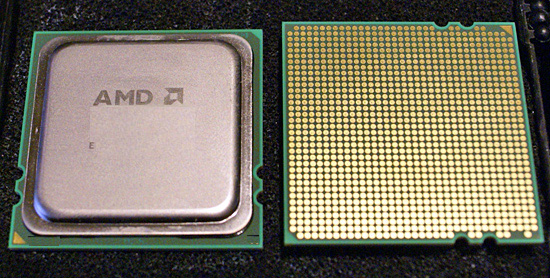 The motherboard makers we talked to are divided about how many more silicon revisions they expect before an official launch for
Barcelona
. Some expect to see two more revisions, while others expect a single rev after B01. If the next revision of the core yields are high enough, AMD may do a very limited "public" release in July at 1.6GHz - 1.8GHz just to get product out there for release purposes.
None of the partners we talked to are really impressed with
Barcelona
yet, but then again none of the true potential of the chip and chipsets have been realized due to CPU stepping issues, BIOS maturity, and generally low clock speeds. AMD simply hasn't gotten the process under control yet and after hearing our friends at the motherboard companies talk, AMD is close to near/total panic mode right now as the Q3 Barcelona product launch schedule rapidly approaches.
The general consensus is that until AMD gets to at least 2.0 - 2.3GHz, we will not see any significant volumes of Barcelona chips in the channel. Alternatively, AMD may delay the actual launch until September, with true volumes hitting the channel and partners by November. If this worst case scenario pans out, we're hearing that
Agena
would be pushed out to Q1 '08, or a slightly better option being a small trickle of
Agena
into the channel by December to keep AMD's Christmas promise.
Continuing on the worst case scenario track, some partners don't expect to see 2.3 - 2.6GHz Barcelona parts in volume until Q2 next year, and based on AMD's simulations the processor doesn't come "alive" until it hits the 2.6GHz mark. At the same time, others have said that an earlier stepping of the core was overclocked from 1.8GHz to 2.5GHz without too much trouble. All in all it's tough to say what clock speeds will be possible and when, but we do know for a fact that what we saw at Computex (Barcelona) ran slower than 2.0GHz.
One interesting rumor that we heard on the plane back home is that Agena parts are likely to scale to higher speeds quicker than Barcelona. The reason for this is getting the server oriented Barcelona to work reliably in 2P or above configurations is a leading factor in the reduced core speeds expected at launch. According to our sources, AMD seems very confident at this point that a 2.6GHz Agena part is likely when this processor series launches on the desktop. Of course, the question being just when is AMD planning the launch of Agena. We expect the product to be introduced publicly in the October time frame but actual availability dates and volumes is anyone's guess at this point.
The biggest story in all of this is that AMD is just not ready yet, the chips are not scaling well, and today it's looking like Intel may eat their lunch the rest of this year. AMD seems very optimistic with internal roadmaps showing 2.9GHz cores by Q1 2008, but everything we've seen or heard today makes this seem unlikely. However, as the original Athlon64 launch showed, AMD is certainly capable of surprising us and we certainly hope they do. For all of us who have been crying for
Barcelona
benchmarks, you really don't want to see them yet. Performance will improve quickly over time, but it's just not there today.