We arrived a day early for Computex 2007 and were able to roam the hallways and meet with a few suppliers before the actual show starts today. This year's show will not have the same pizzazz as last year when the talk of the town was Core 2 Duo and AMD's purchase of ATI. Of course, that does not mean there will be a lack of new products, ideas, or hopes and dreams by the various manufacturers of PC centric products.
The focus on this latest installment of Computex will once again be Intel centric with the official release of
the P35 chipset
, early looks at the upcoming X38 and G35 chipsets, and of course an emphasis on the upcoming 1333FSB Core 2 Duo and quad core processors. Speaking of X38 and G35, they should be available in late July to coincide with the new price cuts to existing products and the introduction of the 1333FSB processors. We have also found out that overclocking limitations that occured on the G965 chipset will not be an issue with the G35 products. We understand from the manufacturers that enthusiast level G35 uATX designs are possible with clock speeds and BIOS options approaching that of P35 boards.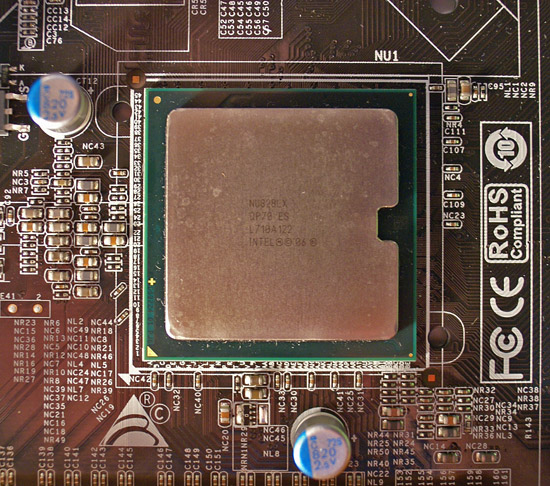 We did have a chance to view the X38 in action and while we cannot report benchmarks, let's just say that Intel's follow up to the 975X will be successful. We expect this chipset to be a hot product in more ways than one. Besides having what is shaping up to be class leading performance, the chipset will also have class leading power consumption and thermal outputs. The current estimated TDP rating is 36W; the chipset has a heat spreader on it, and expect to see temperatures near or above 60c while under load with current cooling techniques. It appears that SLI will not be officially supported at this point although we have seen it running on one of the early boards with drivers that were modified but not provided or supported by NVIDIA. NVIDIA's answer to the X38 will be their upcoming MCP73 series that is targeting both AMD and Intel products. It appears the Intel variant will not launch until the fourth quarter with the AMD version launching in late Q3 according to our sources.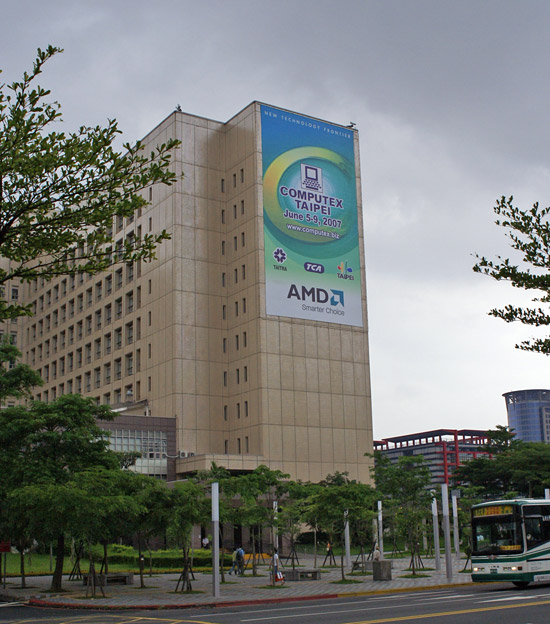 Speaking of AMD, we were originally hoping as many others that Computex 2007 would have been the launch event for Barcelona and Agena. Unfortunately, this will not occur and the best we can hope for at this time is a Barcelona release in the latter part of Q3 at best and Agena following up in late Q4 or possibly sliding to Q1 2008 based on recently received information. The motherboards and chipsets to support this new processor family are starting to take shape but they are far from optimized at this point with early production level silicon just now being made available for the various suppliers who will offer products at launch. Our first look at the RD790 chipset from AMD that supports the new AM2+ socket, HyperTransport 3.0, and DDR2-1066 was interesting to say the least but it is too early to tell what the true performance potential of this technology is until we are able to test it with final silicon.
In fact, although we have seen DVT level chips running up to 2.3GHz, we understand there might be another silicon spin (maybe more) of Barcelona that is due later this month. If this occurs, then current rumors swirling around the trade show floor about the mass availability of product not occurring until the fourth quarter might just be true. At this time the motherboard/chipset companies are in the process of locking down their designs and optimization of the BIOS for performance is just starting. Our early first looks at application benchmarks show a great deal promise for this processor series but nothing overwhelming or very exciting at this point in the game. We, as others, are hoping for some serious competition from AMD as this is good for the market whether you are an Intel or AMD fan. Let's just hope the Barcelona/Agena series performance comes up to speed quickly (along with supply) or AMD is going to be in real trouble heading into the critical Q3/Q4 buying season.
From what information we could gather so far, it appears the upcoming product release of the HD 2600 and HD 2400 video cards from AMD/ATI are in a bit of trouble at this point. While the designs have been set and product is ready to be mass-produced, the various graphic card suppliers are waiting on final chipset silicon that is in the process of being released. We expect to see product within the next three to four weeks with performance coming in slightly below the current midrange products from NVIDIA. Whether AMD can make up this performance delta with further driver optimizations has yet to be determined, but we think the pricing structure that is in place from AMD indicates they will be extremely competitive from a price to performance ratio at launch.
Let's take a quick look at a few products we saw around the show floor during product setup. We will greatly expand our coverage over the course of the next few days as we formally meet with a wide variety of suppliers.