QX6700 Quad Core Overclocking
Gigabyte P35T-DQ6
Quad Core Overclocking Testbed
Processor:
Intel Core 2 Extreme QX6700
Quad Core, 2.66GHz, 8MB Unified Cache
1066FSB, 10x Multiplier
CPU Voltage:
1.4750V (default 1.3500V)
Cooling:
Tuniq 120 Air Cooling
Power Supply:
OCZ ProXStream 1000W
Memory:
Corsair DDR3 CM3X1024-1333C9DHX (2x1GB, 4x1GB) 9-7-7-20
Video Cards:
1 x MSI HD 2900XT
Hard Drive:
Western Digital 150GB 10,000RPM SATA 16MB Buffer
Case:
Cooler Master CM Stacker 830
Maximum CPU OC:
365x10 (9-7-7-20, 1460MHz, 1.60V), CPU 1.4750V
3650MHz (+37%)
Maximum FSB OC:
457x8 (9-7-7-20, 1462MHz, 1.60V), CPU 1.4750V
3656MHz (+72% FSB)
.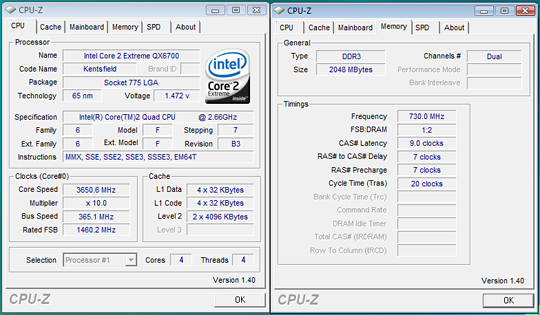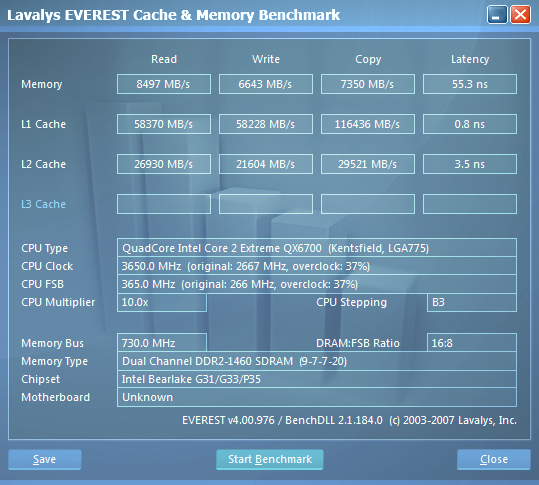 Needless to say, quad core overclocking on the P35 platforms has been an unknown to some extent due to the limited availability of boards. Our board reached a final 365FSB that we found to be extremely stable during testing and exceeded the 361FSB we have reached on the ASUS DDR3 board. Of note is that our processor will actually do 3920MHz but we had to run slightly higher voltages on this board and reached the limits of air-cooling at 3650MHz. Our memory timings had to be relaxed slightly with CAS being set to 9 and voltages increased to 1.60V for 2GB and 1.70V for 4GB configuration.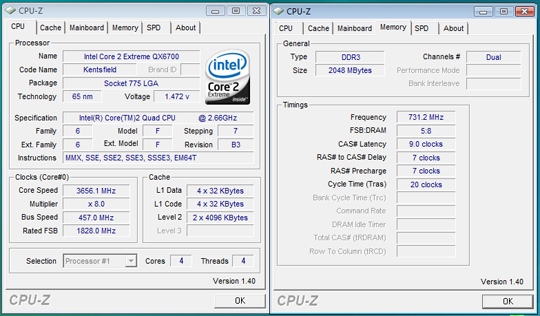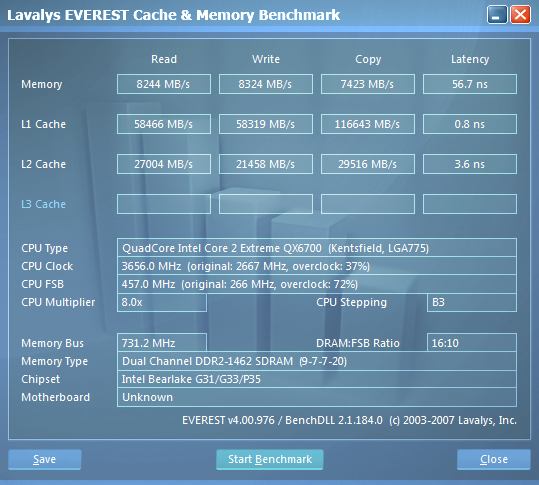 We dropped the multiplier on our QX6700 to eight and were rewarded with a final 8x457FSB setting that was limited to air-cooling. However, even with some quick test runs with water cooling we found our final FSB would not exceed 470MHz due to problems with our memory running stable once we neared the 1600MHz mark with it. Gigabyte is currently working on this problem and we hope to have an update shortly. We see the 8x457 setting offering the best write and copy scores with read and latency performance just trailing the 10x365 settings. In preliminary testing, our 8x457 setting generally scored about 1% better in most of our application and game benchmarks. We will have overclocked scores in our roundup article.