The recent
introduction
of the Intel's new P35 chipset brought with it the official introduction of the 1333FSB and DDR3 support for Intel processors. The P35 chipset is also the first chipset to officially support the upcoming 45nm CPU architecture. We reviewed the P35 chipset and the new Intel ICH9 Southbridge in detail and found the combination to offer one of the best, if not the best, performance platforms for Intel's Core 2 Duo family of processors.
This does not necessarily mean the P35 is the fastest chipset on paper or by pure design; it's just that the current implementation of this "wünder" chip by the motherboard manufacturers has provided us with the overall top performing chipset in the Intel universe at this time. Of course this could change at a moment's notice based upon new BIOS or chipset releases, but the early maturity and performance levels of the P35 has surprised us.
Our first look at
DDR3
technology provides a glimpse of where memory technology is headed for the next couple of years. We do not expect widespread support for DDR3 until sometime in 2008 but with the right
DDR3 modules
we have seen performance equaling or bettering that of current DDR2 platforms. However, this does not mean DDR2 memory technology is stagnant now; far from it, as we will soon see standard DDR2-1066 modules with fairly low latencies running at 1.8V with overclocking capabilities up to or exceeding DDR2-1500 in some cases.
What immediate impact this will have on the DDR3 memory market is unclear right now. Based on our early information we should see the more performance oriented DDR2 motherboards outperforming their DDR3 counterparts until DDR3 latencies and speeds are greatly improved. We do expect these improvements to come, just not quick enough to hold off the initial onslaught of DDR2-1066 and what is shaping up to be some impressive overclocking capabilities.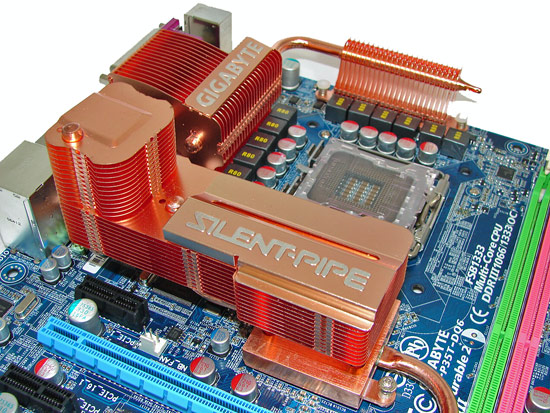 That brings us to today's discussion of the
Gigabyte
GA-P35T-DQ6 motherboard based upon the Intel P35 chipset with full DDR3 compatibility. This motherboard is Gigabyte's current flagship product and we expect the product to launch on or right after June 4th. Gigabyte was kind enough to provide us with a full retail kit for our preview article today.
The P35T-DQ6 motherboard is based on the same platform utilized by its DDR2 counterpart, the P35-DQ6, which has already provided an excellent performance alternative to the ASUS P5K series of motherboards. As we stated in our preview article, making a choice between the current P35 motherboards is difficult and is largely dependent upon the user's requirements.
We initially found the ASUS boards to be slightly more mature, as they offer a performance oriented BIOS with some additional fine tuning options not available in the other boards. However, that is quickly changing as we receive BIOS updates and new board designs from other manufacturers. We will provide an answer for what board we think best exemplifies the performance and capability of the P35 chipset in our roundup coming in the latter part of June.
In the meantime, we have our second DDR3 board in-house for testing and will provide some early results with this somewhat unique motherboard that brings an excellent level of performance to the table. The question remains if this board can outperform the ASUS P5K3 Deluxe, and we hope to provide some early answers to that question today. Let's take a quick glimpse at the Gigabyte GA-P35T-DQ6 now and see how it performs.