Electricity Bill
Having one PSU power two nodes should make sure that the 900W PSU is never working at a very low load, and thus at its lowest efficiency. Using motherboards with only the features that are really necessary and a PSU that is "more than 90%" efficient should also help. On the flipside, a 1U server with 16 cores is harder to cool than two 1U servers with 8 cores.

So how much power can you save with Supermicro's Twin compared to two 1U servers? We decided to find out with Supermicro's 1U 6015b-8+ server. This server has a slightly less efficient 700W PSU, "up to 85% efficient", which is still better than the average PSU in the 1U market. Also, the 6015b+8+ features a U320SCSI controller and one SCSI320 disk which adds about 10-15W.
We tested for 400 seconds (the x-axis).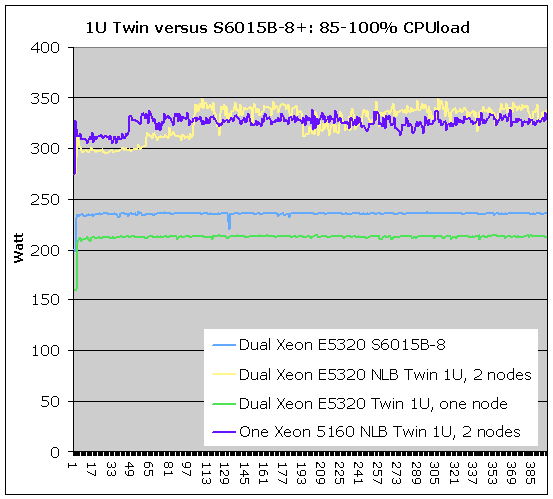 To sum up our findings:
A 1U server with 85% efficient PSU needs +/- 230 W
The Twin 1U server with 1 Node powered on needs +/- 213 W
Twin 1U server with both nodes working uses +/- 330 W
We can conclude that:
The second node adds only 55% more power
In comparison with 2x 1U servers, we save about 130W or about 30% thanks to Twin 1U system
Of course it is rare that a server runs at maximum power. Let us see how much power the different systems consume running idle. We tested for about 100 seconds.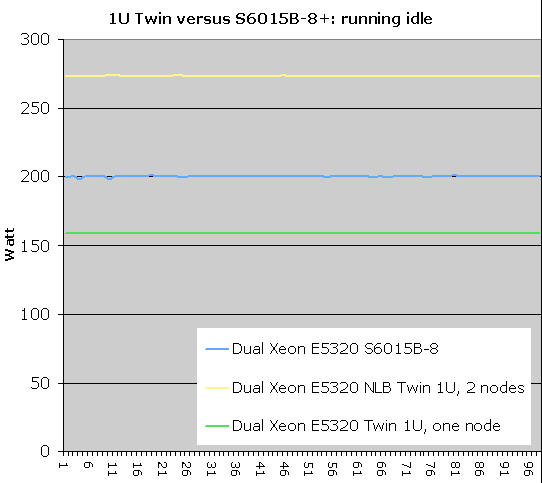 To get a better idea, we summarized the averages in the table below:
Average Power Use
Configuration
Idle (Watt)
Full Load (Watt)
Twin 1U: 1 node
160
213
Twin 1U: 2 nodes
271
330
Power increase 1 to 2 node
69%
55%
Normal 1U
200
230
2 x Normal 1U
400
460
Power savings compared to "Normal 1U"
129
130
Even if we take into account that two "normal" 1U servers would probably consume a bit less (as it gets harder to keep them at 100% load), and even if we take into account the fact that the SCSI controller and disk increase the power consumption by about 10W, we think it is safe to say that each 1U Twin server saves about 100W compared to two "normal" 1U servers. Mission accomplished for the Supermicro PSU engineers.