3DSMax 9 Backburner Rendering
A Supermicro Twin 1U could also be used as part of a rendering farm. We tested with 3D Studio Max version 9, which has been improved to work better with multi-core systems (compared to version 7 and 8) . We used the "architecture" scene of the SPEC APC test (3DS Max 7), which has been our favorite benchmarking scene for years.
All tests are done with 3dsmax's default scanline renderer, SSE is enabled, and we render at HD 720p resolution. We measure the time it takes to render frames 20 to 29, exactly 10 frames. But this time we installed the "Backburn" server on each node. The Backburn server allows us to send our renderings via the network to each node. Both nodes are still connected via our Gigabit D-link DGS-1224T switch. Then we make use of "net render". Below you can see the Backburn server in action.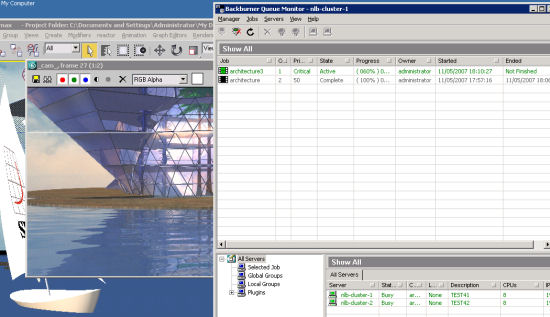 Notice how the first node renders the even frames. Below you can see how this looks on the 3DSMax client. The Backburn monitor gives us an overview of the current rendering. Also note that one node is acting as both a rendering node and a Backburner client.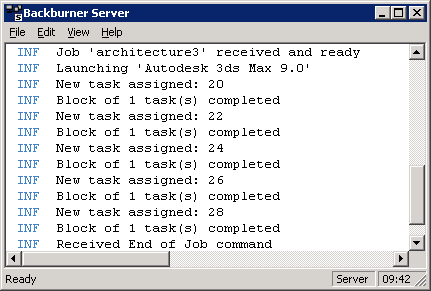 That does not hamper performance however. "2N" means that Backburner used both nodes of the 1U twin. So the orange bar represents the 3dsmax performance we get from rendering at two nodes, with one dual core Xeon 5160 ("Woodcrest") in each node. In each node, one socket was not used. Dual Xeon 5160 3 GHz means that we only use one node with the two sockets occupied by Xeon 5160 CPUs.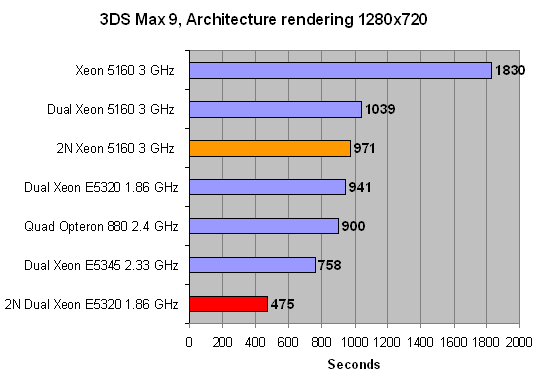 We notice a 98% speedup going from one node (941s) to a second node (475s). Of course, with only two nodes, the network overhead is minimal but this is superb scaling!
Also notice that two Xeons 5160 in one node is a little slower - about 6% - than one Xeon 5160 in each node. The mostly likely explanation is that the "setup" (before rendering) of the frame is adding overhead, as this process is not multithreaded. With two nodes, two frames are set up in parallel, using one core per node. Only two cores are idle at that time. On a single node, three cores are idle and only one core will be busy processing this pre-rendering code.