Words of thanks
A lot of people gave us assistance with this project, and we would like to give them our sincere thanks.
Angela Rosario, Supermicro US
Michael Kalodrich, Supermicro US
(
www.supermicro.com
)
Jerry L. Baugh, Intel US
William H. Lea , Intel US
Matty Bakkeren, Intel Netherlands
(
www.intel.com
)
Marcel Eeckhout, MCS
Johan Van Dijck, MCS
(
www.mcs.be
)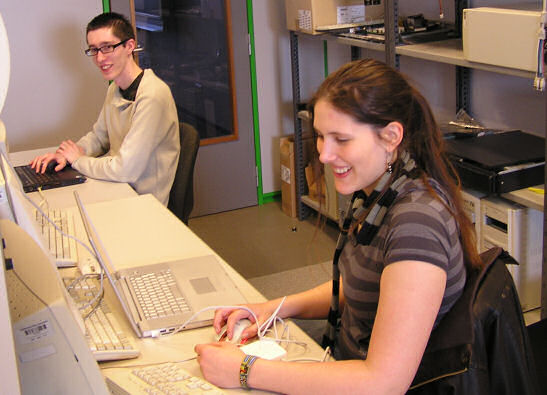 Hopefully, Liz will still smile when we start our Oracle clustering research...
APUS Research team
:
Elisabeth van Dijck, Oracle installation and fine tuning, MCS benchmarking
Tom Glorieux, Server & network administration
APUS software team
:
Brecht Kets, Lead developer
Ben Motmans, Core developer
Leandro Cavalieri, Unix & power monitoring
Dieter Vandroemme, APUS benchmarking developer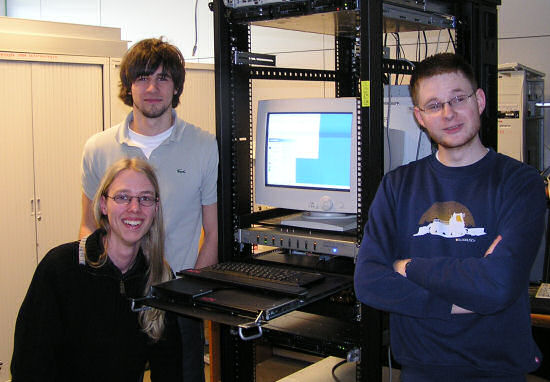 The APUS software team: Dieter, Leandro, and Brecht
Benchmark configuration
Unfortunately, it is not that easy to get four CPUs of the same kind in the lab. We could only populate all four sockets with the Xeon E5320 (quad core 1.86 GHz). In the following pages you can read a more detailed description of our benchmarking methods.
Hardware configurations
Here is the list of the different configurations. The quad Opteron HP DL585 is only used as a reference point; this article is in no way meant to be an up-to-date AMD versus Intel comparison. Our focus is on the possibilities of the Twin 1U.
Xeon Server 1: Supermicro Superserver 6015T-INF
1 node, Dual Xeon DC 5160 3 GHz, Dual Xeon QC 2.33 GHz
2 nodes, 2 x 2 Xeon QC E5320
Intel 5000P chipset
Supermicro's X7DBT
(2 times) 4GB (4x1024 MB) Micron FB-DIMM Registered DDR-II 533 MHz CAS 4, ECC enabled
NIC: Dual Port Intel 82563EB Gigabit Platform LAN Connect
2 Seagate NL35 Nearline 250GB SATA-II 16MB 7200RPM
Xeon Server 2: Dual Xeon DP Supermicro Superserver 6015b-8+
Dual Xeon DP 5160 3 GHz
Intel 5000P chipset
Supermicro's X7DBR-8+
8 GB (8x1024 MB) Micron FB-DIMM Registered DDR-II 533 MHz CAS 4, ECC enabled
NIC: Dual Intel PRO/1000 Server NIC
2 Fujitsu MAX3073NC 73 GB - 15000 rpm - SCSI 320 MB/s
Opteron Server 1: Quad Opteron HP DL585
Quad Opteron 880 2.4 GHz
AMD8000 Chipset
16 GB (16x1048 MB) Crucial DDR333 CAS 2.5, ECC enabled
NIC: NC7782 Dual PCI-X Gigabit
2 Fujitsu MAX3073NC 73 GB - 15000 rpm - SCSI 320 MB/s
Client Configuration: Dual Opteron 850
MSI K8T Master1-FAR
4x512 MB Infineon PC2700 Registered, ECC
NIC: Broadcom 5705
Software
MS Windows Server 2003 Enterprise Edition, Service Pack 2
MCS eFMS
WebPortal v9.2.43
3DS Max 9.0