High Resolution Gaming
We ran our benchmarks at a 1920x1200 resolution with 4x antialiasing and with 8x anisotropic filtering (if the game has support) enabled. We feel this resolution will be the best indicator of performance for users with a high-end CrossFire and CPU setup. Our performance update is based on how well R600 CrossFire works on the ASUS P5K3-Deluxe DDR3 motherboard with the current 8.37.4.3 drivers. The ASUS P5K-Deluxe board utilizes DDR2 memory as does the Intel 975X system.
We have completed testing with the latest beta ATI drivers and have seen improvements in several games by a couple of percent. However, the driver still does not work well under Vista with CrossFire enabled in OpenGL based games so we are withholding our results until the official drivers launch at the end of the month. Contrary to early reports across various forums we have not seen 20%~30% improvement in scores. Various 3DMark scores have improved up to 9% in cases but current game scores are showing improvements of 2% on average.
Company of Heroes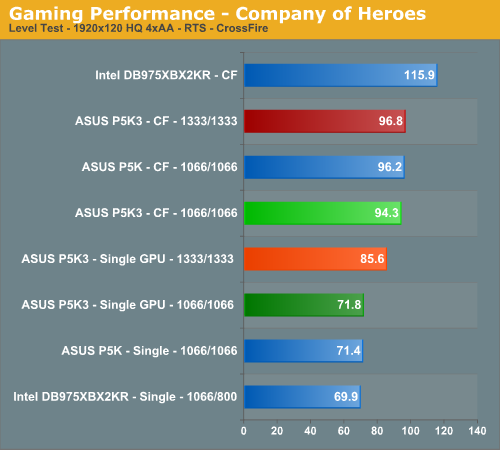 Prey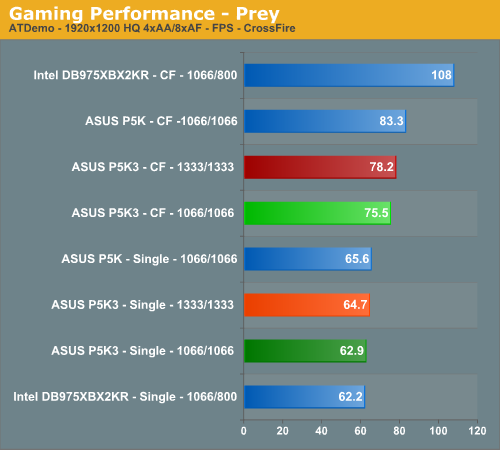 S.T.A.L.K.E.R.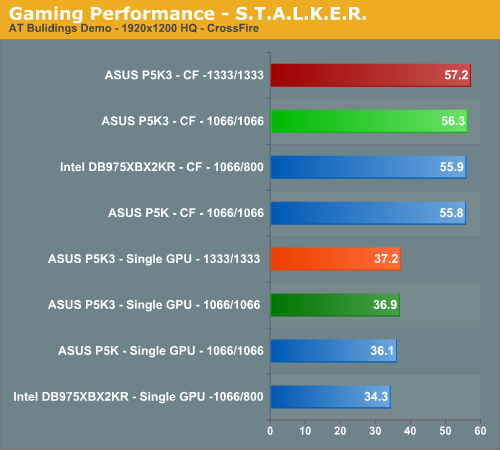 The P35 boards do very well in single card configurations at these higher detail settings and follow the same performance pattern we noticed in the 1280x1024 testing. The S.T.A.L.K.E.R. results surprised us as this was the only game where the P35 boards scored better than the 975X in CrossFire. Prey and Company of Heroes still show relatively poor CrossFire 2900 XT performance on the P35 chipset regardless of memory choice. This is an area that both the BIOS programmers and AMD are working to address, and we expect the next official Catalyst driver release to improve results on the P35 platforms. This is just another indication that the drivers and BIOS are still a work in progress, particularly in multi-GPU setups.