P35 Express - June 4th
For today, the chipset that will most interest our readers is the P35 Express, which replaces the P965.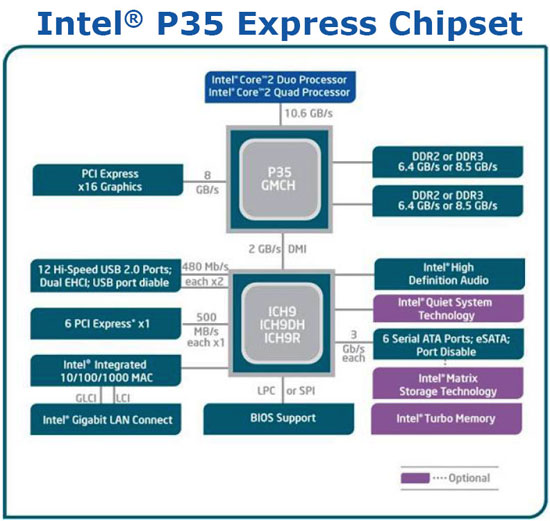 P35 will launch in both DDR3 and DDR2 versions, as you have already seen in
DDR3 vs. DDR2
and
Intel P35 Memory Performance: A Closer Look
. No matter which memory version you chose the performance will be faster on P35 than on P965 or 975X. You will get the best memory performance from the new P35 chipset by running the processor bus at 1333 FSB. Intel has also improved their support for AMD/ATI CrossFire Graphics with the P35 chipset. Where the existing P965 struggled with a second x4 PCIe slot in CrossFire , P35 has official support for a pair of x8 PCI Express slots for the video cards and CrossFire if the manufacturer supports this setup. However, current P35 boards still utilize the x16/x4 design. With the new CrossFire internal connectors, running CrossFire on P35 is much simpler than CrossFire on P965.
Intel P35/ICH9 Specifications
Chip
Mfg Process
Transistor Count
TDP
P35
90 nm
45 Million
16W
ICH9
130 nm
4.6 Million
4W
The P35 chipset also features the new ICH9 series MCH, most likely the ICH9R on top P35 boards. Compared to P965 the ICH9 extends SATA to a total of six native SATA ports, expands USB 2.0 to twelve ports, and adds an eSATA port with port multiplier and port disable. Chipset power consumption for both the P35 and ICH9 are also very reasonable, with TDP for both chipsets rated at a total of 20 watts. Those who have complained about the hot-running NVIDIA chipsets will appreciate the lower power specification.
Intel also adds the Turbo Memory option, which can be a PCIe x1 card or NAND memory soldered on the motherboard. Desktop Turbo Memory is fully supported by Windows Vista but can only be activated in the P35 chipset by selecting AHCI support for the disk controllers. We will provide performance results of this feature in an upcoming storage article.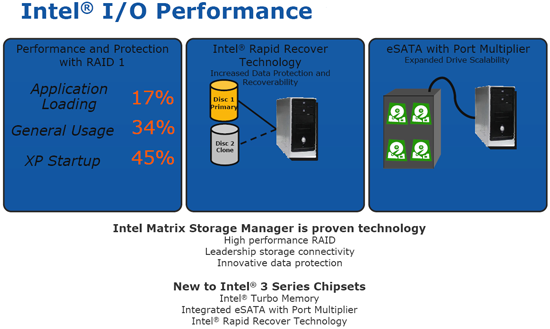 The Intel Matrix Storage is another area that has been improved on the ICH9 family. Intel claims that the new Matrix Storage Technology combined with optional Turbo Memory can enhance application loading, startup and speed up general usage by up to 34%. However, in preliminary testing we have only seen improvements of up 7% in certain scenarios.
You have already seen DDR3 and DDR2 memory test results with the ASUS P5K Deluxe (DDR2) and the ASUS P5K3 Deluxe (DDR3). We will take a closer look at the performance of these two P35 boards in this review. Performance results are also presented for the MSI P35 Platinum and Gigabyte P35-DQ6. With this broad cross-section of four P35 boards from Tier 1 manufacturers you should have the information you need to decide if P35 is your next motherboard.
P35 motherboard features and photos begin on p.6. P35 test results begin on p.10.