Features Comparison
While P35 and G33 are said to target the same segment, the likely target markets are quite different. Enthusiasts will generally opt for the P35 desktop chipset, or perhaps the upcoming G35 if their application requires integrated graphics. The G33 will more likely be found in machines by HP or Dell. Despite the differing end users a closer look at features shows Intel Series 3 features that are universal throughout the line.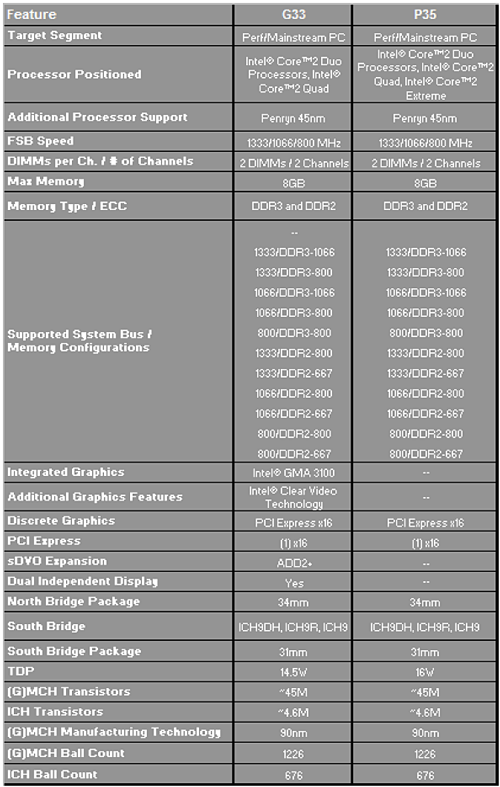 All new series 3 chipsets support DDR3 or DDR2. With DDR3 prices currently double or greater than DDR2 you will likely see DDR2 used in mainstream and OEM computers. For now DDR3 will most likely be limited to high end computers. As we saw in
DDR3 vs. DDR2
the performance of DDR3 and DDR2 were virtually the same on the P35 at the same speed and timings, and DDR2 was faster on P35 than on the current P965. Therefore end users will likely want to migrate to the new 3 series chipsets for added performance, but it doesn't matter right now whether the memory is DDR3 or DDR2. In the future, when DDR3 prices drop and DDR3 timings get faster, DDR3 will be the better choice.
It is interesting that the DDR2-1333 speed is supported on the new 3 series chipsets, as this will likely spur development of even faster DDR2 for the new boards. Any of the new ICH9 MCH chips can be combined with G33 and P35, but you will more likely see the ICH9R used with P35 and the cheaper ICH9 in the G33 boards.
Like the P965/975X chipsets that preceded them, the new 3 series only supports a maximum of 8GB of memory. This is somewhat surprising when year-old AMD AM2 chipsets officially support 16GB. While not an immediate limitation, it may become one if the adoption of Vista is accelerated with a "must-have" DX10 game. For those who have asked, please note that Intel says all new Series 3 chipsets are 45nm Penryn ready. We would take this to mean that earlier P965/975X boards are not likely compatible with the upcoming Penryn, although just like we've seen a few specific boards using older chipsets with Core 2 we may see some exceptions.
Key Innovations
GAMING - X38
Support for all Intel multi-core processors
First DDR3 memory and PCI Express 2.0 chipset support in the industry
Gain additional performance benefits with chipset overspeed protection removed
BUSINESS - Q35 and Q33
Reduce IT costs, increase security and simplify manageability with Intel vPro processor technology platforms
Lower TDP and idle power for greater energy efficiency, enhanced acoustics, and SFF
Continue to support Energy Star2 specifications
Enhance platform stability & improved asset deployment success with Intel SIPP
CONSUMER - G35
Experience sharp HD DVD & Blu-ray content, high-definition video quality & usability with improved Intel Clear Video Technology
Play the latest games with enhanced 3D compatibility with DX10
I/O enhancements with new Intel Matrix Storage Technology features
Support Intel ViiV processor technology